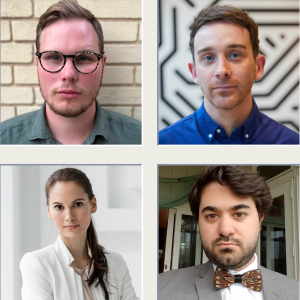 Consumer intelligence company adds key team members across departments to support expansion and innovation goals
We are changing the way data is collected and delivered; expanding our technology solutions to help companies fill crucial gaps in their data strategies."
— Owen Hanks, CEO, Measure Protocol
LONDON, UNITED KINGDOM, June 6, 2023/EINPresswire.com/ — Measure Protocol, a leading consumer intelligence technology company, has added several new team members across its sales, operations, engineering and marketing departments. These new hires will drive ongoing growth for the award-winning company as it continues to provide solutions that transform behavioral data into a competitive advantage for brands, agencies, research companies, app developers, MAANG companies and others.
"We are changing the way data is collected and delivered; expanding our technology solutions to help companies fill crucial gaps in their data strategies," said Owen Hanks, CEO of Measure Protocol. "The demand we're seeing in the market is , with behavioral data rising in value and importance, all of which is contributing to our growth. It's our team that makes this kind of expansion and innovation possible, and the addition of Ben, James ,Katya and Graham, will significantly contribute to fulfilling our vision."
James Guy has been hired as Senior Operations and Project Manager. He will oversee the day-to-day operations of commercial opportunities, working with cross-departmental teams to ensure each project is properly managed and delivered in full, while meeting timelines. Prior to joining Measure, Guy served in a number of management roles for dunnhumby, a customer data science platform focused on customer-first experiences. He will use his skills in project management, business strategy and seamless execution in his new operations position.
As Measure's new Head of Platform Sales, Ben Mills will be responsible for developing go-to-market strategies, managing customer outreach and running all elements of the sales function for Measure's new technology offerings. He brings deep business development and business partnership experience to his new role, including leading global sales teams through company growth, mergers and acquisitions, and new product launches. Most recently, Mills was with Lucid, a global research and media measurement programmatic software company.
In the marketing department, Katya Moskalenko has joined as Product Marketing Manager. Before joining Measure, Katya held roles in digital marketing, product marketing and brand strategy positions at tech and media companies, including Warner Bros. Discovery and others. At Measure, she will help develop and refine go-to-market strategies, ensuring that Measure's offerings effectively meet customer needs and preferences. By actively gathering market feedback and closely collaborating with the sales team, Katya will contribute to shaping the trajectory of Measure's products and optimizing their market fit.
Measure has also added to its engineering team which includes a data engineer and front-end engineer, Graham Trail. Prior to joining Measure, Trail served in front-end engineering positions with companies like eHealth, PinionVote and LiveStack. He brings expertise in building dynamic and engaging web applications to the team. At Measure, he will closely collaborate with the company's product management and engineering teams with a focus on building excellent, delightful user experiences for the company's solutions.
About Measure Protocol

Measure is a consumer intelligence company that was founded in 2018 by a group of media, ad tech, and market research technology veterans on a mission to help people take ownership of their data to monetize it directly with brands. MAANG companies (Meta, Amazon, Apple, Netflix, Google) use Measure to gain insights into the audience's daily habits, emerging trends and factors of influence in a fully-compliant environment. Measure Protocol won the 2022 MRS Award for Best Technology Innovation, and the 2020 Marketing Research and Insight Excellence Award for Technology Impact, powered by Quirks, and is an alumnus of the Creative Destruction Lab's Innovation program.
###
Media Contact: Marie Melsheimer, +1-541-815-3951, [email protected]
Marie Melsheimer
Measure Protocol
email us here
Visit us on social media:
Twitter
LinkedIn


Originally published at https://www.einpresswire.com/article/637905891/measure-protocol-continues-growth-trajectory-with-new-senior-level-hires