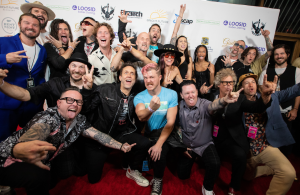 An unforgettable evening featuring top artists, Rock to Recovery 6 showcases the transformative impact of music on mental and emotional well-being.
I went to rehab in 2004 and noticed there was no music in treatment. I wanted to change that."
— Wes Geer, Founder of R2R
LOS ANGELES, CA, UNITED STATES, September 1, 2023/EINPresswire.com/ — The transformative power of music took center stage on Saturday, August 26th, as the eagerly awaited Rock to Recovery 6 event lit up the iconic Fonda Theatre.
This year's concert proved once again that Rock to Recovery isn't just about melodies and rhythms; it's a lifeline, a movement that harnesses the magic of music to heal and uplift lives and destigmatize the topic of recovery.
The event was hosted by World Famous KROQ's own on air talent Megan Holiday, who connected with the sold-out audience of 1300. She shared her story of once having lost it all in addiction and now she is sober for eight years.
The red carpet glowed with star power as notable attendees graced the event, excited by the spirit of unity and strength. Among the attendees were Courtney Friel (KTLA), Guess supermodel Zita Vass (Californication), Seth "Shifty" Binzer (Crazy Town), Lauren Mosley, Joe Sparrow, Sumner Stroh, Acey Slade (Joan Jett, Misfits), Jakob Nowell (son of Sublime's Bradley Nowell), Jim Lindberg (Pennywise), Danielle Vasinova, Jeremy Jackson (Baywatch), Genevieve Morton (Top Sports Illustrated Model), Sassoon, and many others.
Each year, the event honors rockstars and celebs who have beaten their demons. They now stand proud in sharing their inspiration with the audience.
This year, Pennywise singer Jim Lindberg presented the Rock to Recovery Service Award to pro-skater Brandon Novak (Jackass, Viva La Bam). Novak took to the stage to share his story of once being a hopeless junkie on Jackass. He is now a powerful advocate and owner of multiple treatment facilities.
Travis Mills (Girlfriends' singer and MTV star) was presented with the Icon Award by Tim Ryan and Jennifer Gimenez.
"If you are out there and struggling, hold on, you gots this!" says Travis Mills who celebrates several years of sobriety.
The inspirational moments was interlaced with incredible musical performances by Cami Petyn and KILLBOY as they joined Rock to Recovery's all-star band, Sacred Sons, on stage. This superstar band is headed by Wes Geer (Korn, HU3M3N), Sacred Sons features musicians Acey Slade (Misfits), Sonny Mayo (Sevendust, Snot), Brandon Jordan (Killradio), Clinton Calton (D.I.), Zac Morris (Dorothy), and others.
The musical highlights of the evening were electric and otherworldly as Japanese music legend and actor (Unbroken) MIYAVI tore the roof off with his unique blend of guitar playing and songwriting. To close out the night in a rare performance, the incredibly talented Jakob Nowell (son of the legendary Sublime singer Bradley Nowell) played his father's biggest hits to an audience that sang every word.
"This is the forum I like to play my dad's music; where music and recovery collide," said Jakob.
MUSIC SAVING LIVES
"Not a dry eye in the house. I caught myself crying, and then I looked around and realized most of the room was crying," said Nikki Gray, a cover model and healer.
This is what happened when the 19-year-old Brianna Reed shared from the stage, "I had crippling anxiety and fear…and when I reached out, music reached back. Rock to Recovery saved my life."
Rock to Recovery® was founded on 12.12.12 by former Korn and Hed P.E. guitarist, Wes Geer, in an effort to bring the healing transformative powers of playing music into various treatment settings.
"I went to rehab in 2004 and noticed there was no music in treatment. I wanted to change that," Wes Geer said.
Geer succeeded in that feat. Rock to Recovery® and their team of 17 talented rockstars currently perform 600 sessions a month with +100 treatment programs helping people heal from mental health, substance abuse, addiction, trauma, and combat-wounded veterans.
Rock to Recovery 7 promises to be another sober night to remember.
Keri Ann Kimball
Rock to Recovery
email us here
Rock to Recovery 6: Brandon Novak Speech for Service Award – Moments That'll Blow Your Mind!


Originally published at https://www.einpresswire.com/article/653317413/rock-to-recovery-6-a-star-studded-night-unleashed-the-power-of-music-to-heal