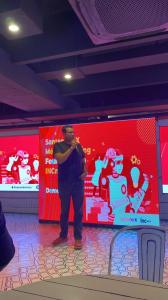 The 13 Mexican startups that completed the Santander X México Training – Foundry Team program displayed their talent within the framework of Demo Day.
Through its community of more than 126 thousand entrepreneurs and with its Future Now strategy, incMTY aims to be the technology and sustainability HUB of the future that will connect with the world."
— Ulrick Noel, National Director of the Eugenio Garza Lagüera
MONTERREY, NUEVO LEÓN, MéXICO, October 3, 2023 /EINPresswire.com/ — Mexican entrepreneurs have presented their technology-based projects at the Demo Day of the program Santander X México Training – Foundry Team incMty 2023, organized in partnership with incMTY through the Foundry Team México -which forms part of the higher education support programs launched by Banco Santander on behalf of Santander Universidades-.
Before their presentation, the participating startups had won a comprehensive accompaniment program as part of the higher education and entrepreneurship support programs launched by Banco Santander through Santander Universidades and the Santander X platform.
As a result of this support from experts selected by Santander Universidades and incMTY, the startups were able to meet their specific needs, such as the absence of unvalidated business strategies with costly errors, sales or investment problems, and poorly developed soft skills and hard skills (legal, accounting, digital and human), among others.
Jaime Valls Esponda, Deputy Executive Director of Santander Universidades, said, "For over 26 years at Santander, we have had a firm commitment to helping to build a more inclusive, sustainable and equitable society, and we do so by supporting education, employability and entrepreneurship. In this latter area, we promote startups, scaleups, micro-entrepreneurs and SMEs, in all their phases, and connect them with the necessary resources to achieve success. A clear example of this is Demo Day of the Santander X México Training – Foundry Team incMty 2023 program.
"Through its community of more than 126 thousand entrepreneurs and with its Future Now strategy, incMTY aims to be the technology and sustainability HUB of the future that will connect Mexico with Latin America and the world. The Santander X México Training – Foundry Team incMTY 2023 program is the perfect example of how Mexican entrepreneurs innovate with their value proposals," commented Ulrick Noel, National Director of the Eugenio Garza Lagüera Entrepreneurship Institute -Tecnológico de Monterrey.
Meet the startups

More than 40 entrepreneurs from 15 different public and private universities participated in the program. All the participating startups have the potential for disruption and are highly scalable in some of the following sectors: HealthTech, Fin Tech, Edu Tech, Food Tech, Software as a service, Agro Tech and Internet of things.
The 13 startups that completed the program are:
1. Eneryou – David Ignacio Montaño López

2. Pharmaceutical and Biotechnological Innovation-Services SAS de CV – José Correa Basurto

3. Studially – Jesica Leticia González Robles

4. Tan tan – Jorge Ortiz

5. LOOP Conexión Empresarial SA de CV – Eduardo Torres Jaime

6. Atrevi – Gibrán Elías Huarte Aguilar

7. Docstay – Juan Manuel Cervantes Cervantes

8. Timplus – Cynthia Patricia Gómez Espinosa

9. YIPI – Ana Evelyn Vázquez Pérez

10. Camionix – Carlos Ortiz

11. Cleapy, Miguel Ángel Vázquez Torres

12. INTERMEDIARIO MI CASA SA de CV – Housana – Evelyn Elizabeth Ibarra Rico

13. Medpal – Mauricio González Castillejos
These startups closed the program with visits to some of the leading companies in the digital transformation sector, such as Amazon and LinkedIn, where they were able to learn about and explore the latest innovations and trends in an inspiring environment, seeking to connect and create synergies both today and in the near future.
According to the main findings resulting from the participating startups, Cleapy, founded by Miguel Angel Vazquez Torres and his business partner Bryan Eduardo Vazquez Torres, has been one of the most outstanding projects of the program and, during this last stage, managed to register as suppliers of automotive cleaning services for Tesla in Monterrey.
The startup Studially, led by the entrepreneur Jesica González, is conducting pilot tests with students and has launched a pilot version for Android and IOS.
For its part, Medpal's initiative stood out, since entrepreneurs Mauricio and Alejandro González are generating commercial, operational and validation structures to attract more doctors who can validate and assure the organic growth of the platform within their market segment.
For further information, go to: https://content.incmty.com/incmty/foundry-team/
About Santander X

Santander X (www.santanderx.com) is a global corporate social responsibility initiative by Banco Santander to help SMEs, startups and micro-entrepreneurs to receive training and connect them with the resources they need to grow and prosper. Our objective is to build the highest-quality business community and support businesses throughout their journey by offering them the right resources for success.
About incMTY

incMTY is an annual three-day entrepreneurship festival, which serves as a unique Tec de Monterrey platform for driving and promoting innovative entrepreneurship. Its purpose is to inspire, connect, and empower entrepreneurs, investors, businesspeople, and corporations by activating an ecosystem to create and propel ideas and initiatives to become innovative, transformational enterprises. incMTY started in 2013 since when it has grown consistently with a community of almost 100 thousand entrepreneurs across its previous nine editions. It has enjoyed the participation of outstanding personalities, such as Gary Vaynerchuk, Jeremy Gutsche, Mayim Bialik, Guy Kawasaki, Peter Diamandis, Jason Silva, Richard Branson, Kevin O´Leary, Jenn Lim, Alexander Osterwaider, Martha Debayle, Maye Musk, Daymond John, and inspiring entrepreneurs, including Tanya Moss y Xavier López Ancona, to name just a few. incMTY is the product of numerous alliances that, as a whole, translate into content and support, making great things happen. Organizations such as Google, Facebook, Silicon Valley Bank, Draper Network, IBM, Amazon, Ashoka, Hult Prize, Hootsuite, Global Entrepreneurship Network, WeXchange, International Accelerator, HEINEKEN México, Telcel, Santander, SAP, Banorte, Openpay, DocuSign, Daikin, OCV Monterrey, Startup Bootcamp, Growth Institute, among many others, have been pivotal in its development. For further information, visit incmty.com.
Perla Melchor
Tecnológico de Monterrey
+52 81 1044 9395
email us here
Visit us on social media:
Facebook
Twitter
LinkedIn
Instagram
YouTube


Originally published at https://www.einpresswire.com/article/659483270/the-13-most-disruptive-startups-with-the-highest-growth-potential-present-their-solutions-on-demo-day