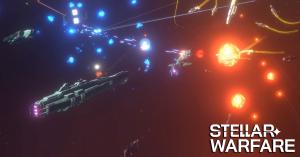 3D fleet maneuvers, ship trails, modding and an epic superweapon!
Looks stunning, nice ship customization choices, well-implemented 3D building interface; love the ability for some structures to link to eachother"
— Atrixsanna
BREDA, NOORD BRABANT, NETHERLANDS, November 9, 2023 /EINPresswire.com/ — Tense Games is excited to announce the release of a major update for Stellar Warfare. The update includes several new features that are sure to make the game even more exciting and enjoyable for players.
One of the most significant changes in the update is the addition of 3D fleet maneuvers. Players can now watch their ships perform space acrobatics and dance around enemy ships in an attempt to avoid projectiles. The majority of their guns will remain trained upon their victims, making battles more dynamic and engaging. Players can toggle this behavior on or off in the bottom right of their screen, and all selected ships will adjust their behavior accordingly.
More information about the update can be found here: https://store.steampowered.com/news/app/1113030/view/6462160842567677545
In addition to 3D fleet maneuvers, the update also includes a new superweapon called "The Unmaker." This weaponized sun can be launched towards the enemy, dealing catastrophic damage to nearby targets. Technology has come a long way in the future, and they've managed to keep the sun stable enough to launch it towards whatever enemy target you wish. It will lose cohesion upon impact, but the damage it deals is sure to be devastating.
There are already some who have compared Stellar Warfare and its combat to the likes of Stellaris, Homeworld and Sins of a Solar Empire. Which is remarkable since Tense Games is currently still officially a one person studio. We don't think they are quite there yet, but it looks promising, and shiny, for sure!
Modding capabilities have also been added to the game. Players can now use the Workshop to create new mods, including uploading 3D models from their favorite franchises. Right now, modding is limited to being able to upload 3D models from your favorite franchise or models you've made yourself. This way, you can replace all the ships you want and modify things to suit your own taste.
Finally, the update includes ship engine trails. These have been enabled for the Ant, Corvette, Frigate, and Destroyer. If players like this feature, it may be enabled for all other ships in the future.
These changes are sure to make your game even more exciting and enjoyable for players. Thank you for choosing our game, and we hope you enjoy the new features!
Stellar Warfare is a space RTS game developed by Tense Games. Set in the far future where humanity has colonized the local galaxy, the player must control their fleet of spaceships to return order to the galaxy. An event known as The Light has caused a galaxy-wide civil war, and it is up to the player to look for answers and create stability. Even before starting their first match, players can start composing their fleet with over a million possible configurations. You can create fast ships, tanky ships, ships which lay down a field of flak, or simply ships that are cheap to produce. You can then purchase those ships in-game. After building up your base, economy, and defenses, of course. No one likes a warp jump into their backyard. Either way, the galaxy is bound to transform into a big cinematic mess.
Streamers and game journalists can contact Tense Games on [email protected] to get a free copy to try out.
It is currently unclear when the game will be fully released since the developer is actively looking for a publisher, but the game has been fully playable for over a year now.
The updated press kit and media pack can be found on www.stellarwarfare.com. Players can try out the game and get rewards by subscribing to the Patreon on www.patreon.com/tensegames.
Thomas van den Essenburg
Tense Games
[email protected]
Visit us on social media:
Twitter
LinkedIn
YouTube
Other
Some highlights together with streamer DiplexHeated


Originally published at https://www.einpresswire.com/article/667386446/stellar-warfare-receives-huge-update-3d-fleet-maneuvers-superweapon-and-modding-capabilities