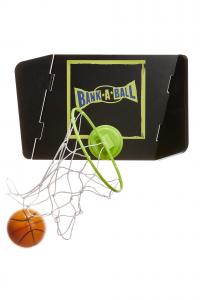 Upgrading your dorm room or bedroom just in time for the school year? Bank-A-Ball is an indoor-safe mini-basketball structure
Bank-A-Ball is especially fun for a dorm room. Taking a couple shots is an easy ice breaker for new students. Some of the best trick shot memories happen when friends are just hanging out."
— David Beker, inventor of Bank-A-Ball
LAS VEGAS, NV, UNITED STATES, August 9, 2023/EINPresswire.com/ — College Bound? When students are packing their bags to go off to school this year, Bank-A-Ball, the new indoor-safe, mini basketball hoop, is a new choice as item to take along for the dorm room.
Bank-A-Ball ($44.99 for ages 4+) is the multi-angle backboard and rim basketball set that easily attaches to the top of any dorm door or closet to turn a boring room into a trickshot playground.
"Bank-A-Ball is especially fun for a dorm room. It's super simple to set up and doesn't take up any floor space. Taking a couple shots around the room is an easy ice breaker for new students," David Beker, inventor of Bank-A-Ball, said. "Some of the best trick shot memories happen when friends are just casually hanging out."
Right now, Bank-A-Ball is "primed" for Back2School shopping on Amazon.
In addition to the college bound crowd, boys and girls moving up to high school and middle school, who are looking to upgrade their bedrooms with a little sophisticated fun, can add Bank-A-Ball for their rooms to become instant indoor arenas.
Don't just take Beker's word for it. Recently, Bank-A-Ball received praise by some of the nation's top parents' organizations and product review authorities. Bank-A-Ball earned the Gold Level Honor from Mom's Choice Awards, The NAPPA (National Parenting Publications of America) Award, Family Choice and Family Choice "Hot" Summer Products, as well as a 4-Star review from the toy experts at Time to Play Magazine.
"We are revolutionizing the trick shot possibilities with a whole new angle(s). Anyone can get ultra creative with the adjustable Bank-A-Ball backboard and rim. The fun is only limited by a players' imagination. Think it. Shoot it. Bank it. Score it," Beker added.
Bank-A-Ball is a 6-position segmented plastic-polycarbonate backboard with a 7-position spring-loaded, coated steel, tilt-adjustable rim. The collapsible rim makes Bank-A-Ball sturdy for dunking and aggressive play, and room décor is safe with the 4" foam basketball.
The easy setup of Bank-A-Ball makes the product portable too. Once it is hooked to the top of the door, the room becomes a court for rec play, shooting drills and, most importantly, trick shot creation. Bank-A-Ball is used for long distance shooting contests, jump shots, scoop shots, finger rolls, and, of course, bank shot scoring.
The story of Bank-A-Ball:

David Beker, 53, grew up as a major sports fan in Minneapolis, MN. Emulating the play of his favorite players from his hometown teams, particularly the local Minnesota Timberwolves, Twins, Vikings, and Wild, David would try to reenact the daily highlights and spectacular shots, runs, passes, and catches. His favorite was basketball. However, being in the cold Midwest U.S., oftentimes playing ball was limited and had to occur indoors. As a result, trick shots became a constant creation for David and his friends. Now, decades later and with six kids of his own, David rekindled some of his fondest childhood sports activities and created a way to add trick shot creation to any living room, bedroom, or playroom. "I always felt that bank shots allow for a margin of error to pull off the most spectacular shots. With some math skill and engineering prowess, I discovered that there are even more spectacular options if there were multiple back board and rim angles that allow for unlimited creativity." Playing Bank-A-Ball and creating new trick shots has since become an everyday occurrence for David and the Beker kids, and now it is on its way to "home" arenas everywhere.
About ABetter Design Company:

After multiple successes from start-ups and inventing new products to managing young businesses to pivoting older companies, ABetter Design Company was formed as an integrated company that houses all elements needed for businesses and products to become successful. ABetter Design Company contains all of the experts in varying business fields into one place where good ideas and good businesses become better realities. Recent triumphs for ABetter Design Company include: Bisconi, an international healthy gourmet flavor whole grain ice cream cone company; Backbook, a transformative means for a book to be double-sided for the reader and audience to view the same content simultaneously; and Bank-A-Ball, the world's most sophisticated indoor trick shot basketball structure; among many other products and business services. For more information, visit www.bankaball.com, and consider posting your trick shots with a tag to us on Facebook, Instagram and TikTok.
Bank-A Ball is a product of ABetter Design Company LLC

2023 ABetter Design Company LLC, (Efrat, Israel).

All Rights Reserved
Bank-A-Ball
Walsh PR
+1 203-292-6280
[email protected]
Visit us on social media:
Facebook
Instagram
TikTok
TTPM Review of Bank-A-Ball


Originally published at https://www.einpresswire.com/article/648939075/back2school-with-bank-a-ball-basketball