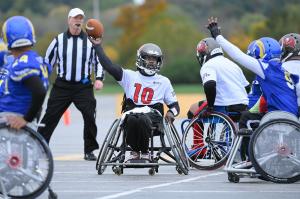 Teams from eight cities across the country, including hometown Tampa Bay Buccaneers Wheelchair Football Team, will participate
This program, supported through the Salute to Service partnership between the NFL and BWF, brings the hard hitting sport to hundreds of warfighters and adults with disabilities in their communities."
— Move United Executive Director Glenn Merry
TAMPA, FL, USA, September 6, 2023/EINPresswire.com/ — Wheelchair football athletes from across the country, including the hometown Tampa Bay Buccaneers Wheelchair Football Team, will compete at a USA Wheelchair Football League (USAWFL) tournament hosted by Hillsborough County Adaptive Sports September 9 & 10 at the Tampa Convention Center. 2023 marks the third year of USA Wheelchair Football League (USAWFL) tournament play. The USAWFL is a program of Move United that is made possible in part by NFL-BWF Salute to Service "Healthy Lifestyles and Creating Community" funding, as well as local team support by the Tampa Bay Buccaneers.
Tournament competition will kick off on Saturday morning, September 9 at 8:00 AM with two fields running concurrently from 8:00 AM to 7:00 PM on Saturday and from 8:00 AM to 4:00 PM on Sunday in Hall C at the Tampa Convention Center. A champion will be crowned Sunday afternoon following the final matchup at 2:00 PM.
"I'm excited to kick off our football season at home," said Lucio Gaytan, retired U.S. Army SFC and one of the captains of the Tampa Bay Buccaneers Wheelchair Football Team. "Our team is really continuing to build on our team chemistry. We've come short the past couple of seasons, but we've got what it takes to go all the way this year! The camaraderie with the team, working out and team building feels like being back in the service again, which is why Veterans like me love participating in this league."
This is the second tournament of the 2023 season. Eight teams will be competing, including the Arizona Cardinals, Birmingham Hammers, Buffalo Bills, Dallas Cowboys, Green Bay Packers, Los Angeles Rams, New Orleans Saints, and the home team Tampa bay Buccaneers Wheelchair Football Team.
"We are so pumped to launch the third in-person season of wheelchair football competitions, with the league now growing to 14 teams in 2023," said Move United Executive Director Glenn Merry. "This program, supported through the Salute to Service partnership between the NFL and BWF, brings the hard hitting sport to hundreds of warfighters and adults with disabilities in their home communities. The power of the league is to reengage our athletes in the unique team environment that only football brings."
In addition to supporting the USAWFL's competitive teams, the grant from the NFL-BWF Salute to Service partnership and Move United provides opportunities for grassroots growth of the sport through coaching education, officials training and learn-to-play clinics.
As a signature program of Hillsborough County Parks & Recreation, the mission of Hillsborough County Adaptive Sports program is to promote health, independence and personal growth through sports for people with physical and intellectual disabilities. HC Adaptive Sports provides year-round sports and recreation programs that promote physical activity, healthy lifestyles, and recreational and competitive sports opportunities for children and adults with physical disabilities.
Local youth football organizations, nonprofits and community groups are invited to come out to a game to support the athletes and teams as spectators or volunteers.

Shuan Butcher
Move United
+1 2402682180
email us here
Visit us on social media:
Facebook
Twitter
LinkedIn
Instagram
YouTube


Originally published at https://www.einpresswire.com/article/654009819/hillsborough-county-adaptive-sports-to-host-usa-wheelchair-football-league-tournament-in-tampa-september-9-10-2023