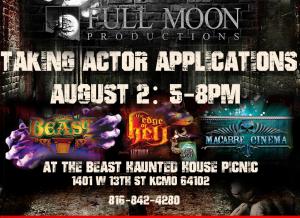 Nationally Acclaimed Haunted Houses in Kansas City's Historic West Bottoms Districts
Beast and Edge of Hell Haunted Houses are accepting job applications for Sept. 8 season launch
We have worked tirelessly throughout the year to craft a truly unforgettable haunted house experience, but it takes a frightening number of people to make an exhilarating experience."
— Amber Arnett Bequeaith, also known as the Queen of Haunts
KANSAS CITY, MO, UNITED STATES, August 2, 2023/EINPresswire.com/ — Fear and excitement generated at a hiring fair are common emotions among job seekers. These emotions go full tilt at the hiring picnic of the scare-entertainment professionals at Beast, Edge of Hell, and Macabre Cinema. The picnic will be held at the Beast Wednesday, August 2, from 5-8pm. Kansas City's Edge of Hell is the oldest operating commercial haunted house in America – keeping the tradition of going to haunted attractions for 49 seasons.
To ensure the fear factor is dialed up to maximum intensity to create screams and laughter, the haunted attractions seek cast members with unusual talents, such as howling, acrobatics, screaming, or cackling, to be part of their scare actor crew. Aspiring scare actors will undergo a series of fright-inducing challenges to showcase their ability to elicit screams and create unforgettable scare experiences.
The picnic will offer free food and treats for those applying for any of the 300 open positions. Beyond the scare cast, the haunts hire parking lot attendants, ticket handlers, and concession jobs. Job seekers passionate about horror entertainment can apply if they are 16 and older, have two forms of ID, and pass a background test. Just 26 nights from September through mid-November offers a fun way to earn extra income while making new friends and having a great time.
"We have worked tirelessly throughout the year to craft a truly unforgettable haunted house experience, but it takes a frightening number of people to make an exhilarating experience that is up to our top-rated standards," said Amber Arnett Bequeaith, also known as the Queen of Haunts.
Details:
• Picnic and Applications at the Beast – 1401 W. 13th, KCMO 64102 from 5pm-8pm, August 2
• Season: September 8 – November 11
About Full Moon Productions – creators of the Beast, Edge of Hell, and Macabre Cinema Haunted Attractions:
Full Moon Productions owns and operates world-class haunted house attractions since 1975 and has prioritized helping children and pet charities in the community, including the anti-bullying program "Don't Be A Monster." The Edge of Hell, Beast, and Macabre Cinema Haunted Houses are located in the West Bottoms Historic District off the 12th Street Bridge near Downtown Kansas City
Stacey McBride
McBride Media & Marketing
email us here
Visit us on social media:
Facebook
Instagram


Originally published at https://www.einpresswire.com/article/647688057/hiring-picnic-to-generate-fear-and-excitement