40 LEGO Minifigure Tabletop Display Case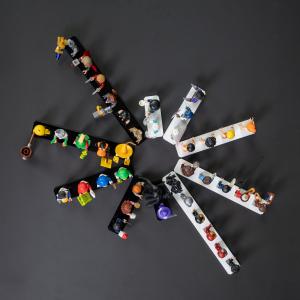 Acrylic Display Plates for Minifigures
A range of premium tabletop and wall-mounted display cases for collectors to showcase up to 100 LEGO® minifigures while protecting them from dust and damage.
LUTON, HERTFORDSHIRE, UNITED KINGDOM, October 9, 2023 /EINPresswire.com/ — iDisplayit has today showcased their display cases for collectable LEGO® minifigures in anticipation of the Christmas gift-giving season. The range includes tabletop and wall-mounted options designed to house 40, 60, 80 or 100 minifigures at home or as part of an exhibition or private collection, offering a unique and stylish way to house and show off LEGO characters from all the best franchises and themes.
Discussing the products, iDisplayit Director Steve Chan said, "It is important to give collectors flexible display options to showcase and protect their models. Our cases are available in a range of sizes to suit any set-up, with plenty of room to show off the all-important minifigures."
The products have been designed to provide an ergonomic display case for LEGO Minifigures, allowing the models to be visually showcased while retaining practical features. The rear of the wall-mounted display cases is constructed from black or white acrylic, with transparent shelving and studs to hold the minifigures in place. The tabletop editions are available with a black, white or clear acrylic base with matching tiers and studs.
"We are always looking for innovative new ways to display LEGO models and collectables," said iDisplayit Director Steve Chan. "These display cases were designed to include a removable front panel on our wall-mounted cases, something customers requested so they could have easy access to the minifigures when they want to switch them around. Our tabletop case also utilises four acrylic tiers at different heights, allowing the models to be securely attached while remaining visible at different angles. Practical and stylish features such as these, set our display cases apart."
iDisplayit also sells display cases for single or 12 minifigures, with alternate options such as display plates and an army display case with a 32×32 base plate. The full range of LEGO minifigure displays can be viewed at https://www.idisplayit.co.uk/lego-minifigure-displays.
iDisplayit is a family-run business that designs and manufactures display cases and stands for LEGO and other collectables. All iDisplayit products are produced from their own U.K. warehouse, using high-quality acrylic. They also offer worldwide postage, with each product delivered flat-packed, including assembly instructions.
Gina Gould
iDisplayit
[email protected]
Visit us on social media:
Facebook
Twitter
Instagram
YouTube
TikTok


Originally published at https://www.einpresswire.com/article/660595986/idisplayit-present-bespoke-displays-for-lego-minifigures