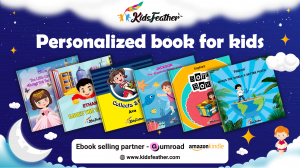 Kids Feather's special children's ebooks put the child's name in every story.
MUMBAI, MAHARASHTRA, INDIA, October 16, 2023 /EINPresswire.com/ — Kids Feather, a company specializing in creating personalized children's books, is delighted to announce the availability of ebooks starting from $5. In the global market the company provides ebooks through selling partners – Amazon and Gumroad. Kids Personalized eBooks can help your child's education and reading habits soar! Follow the trend of parents giving their children superior, personalized education for a better future. These books are more than simply presents—they're a fresh perspective on learning and priceless moments that your youngster will always cherish.
Currently, on kidsfeather.com, parents can purchase a wide range of ebooks with their kid's name, including Storybooks, Comics, Memory Books, Fun Learning eBooks and Enjoy these personalized eBooks on Kindle, tablets or any PDF and ePub reading devices. With every $5 ebook purchase, the company provides a high-resolution, free printable version of the eBooks so that parents can print and gift the customized hard-form books to their children. The option to have these personalized ebooks transformed into physical books adds an extra layer of excitement and anticipation, making each storytime a magical experience. Featuring a child's name skillfully woven into the pages, this transforms each ebook into a heartfelt gift, crafting enduring moments for the child and reinforcing the bond between parent and child.
Parents can also download a range of printables for free, like games, personalized awards and certificates, greeting cards, story starters, and more, adding a personal touch to these items and strengthening the parent-child bond with every storytime.
"At Kids Feather, we understand that every child is unique. Our platform allows you to customize not just the name but characters and themes of the ebook, ensuring a truly one-of-a-kind reading experience for your child," says Ajit Barai from Kids Feather.

"Reading our personalized ebooks isn't just enjoyable; it's educational. These books are designed to boost your child's literacy skills, making reading a joyful and educational experience that can set them on the path to a lifetime of literacy," he added.
The ebooks offered by Kids Feature effortlessly combine entertainment and education, transforming learning into an enjoyable adventure. Every story in the eBooks is carefully designed to convey important lessons, nurturing both creativity and knowledge. With the excessive use of digital screens nowadays, Kids Feather is on a mission to foster a love for reading and storytelling in children.
This innovative approach to children's literature encourages reading and fosters creativity. Children will be delighted to see their names used in imaginative stories, making them the heroes of their adventures. This indirectly boosts their confidence to be a leader in the world. In India, the company supports both ebook sales and hardcover book sales, expanding the range of options available to parents.
For any media or to place an order, parents can visit:

Website: https://www.kidsfeather.com

Amazon Kindle: https://www.amazon.com/dp/B0CKPQN47S

Gumroad: https://kidsfeather.gumroad.com
For updates, follow Kids Feather on Social Media:

Youtube @Kids_feather

Instagram @kids_feather

LinkedIn @kids-feather
Ajit Barai
Kids Feather
[email protected]
Visit us on social media:
LinkedIn
Instagram
YouTube


Originally published at https://www.einpresswire.com/article/662198031/kids-feather-launches-personalized-children-s-ebooks-collection-with-free-downloadables