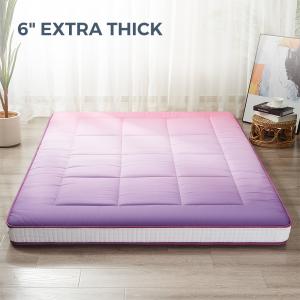 MAXYOYO 6″ Extra Thick Gradient Purple Floor Futon Mattress, Square Quilted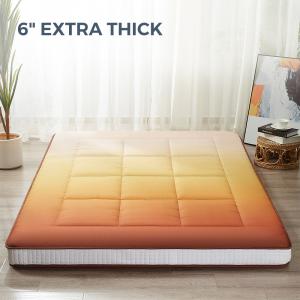 MAXYOYO 6″ Extra Thick Gradient Brown Japanese Futon Mattress
The gradient color 6″ futon mattress is an invitation to unleash People's creativity.
The gradient color 6″ futon mattress is an invitation to unleash People's creativity."
— MAXYOYO
NEW YORK, NY, US, November 6, 2023 /EINPresswire.com/ — Blending Comfort and Style
In the world of interior design, innovation often comes in small details. MAXYOYO, the renowned leader in multifunctional floor futon mattresses, proudly presents a good new product addition to their collection – the gradient color 6″ futon mattress. This fresh design merges the realms of comfort and style, proving that a futon mattress can be more than just a sleeping surface.
The Magic of Gradient

The key highlight of MAXYOYO's new offering is the good gradient color design. Instead of traditional monotonous hues, this futon mattress is a canvas of transitioning shades that create a visual masterpiece in any room. The gradient is not merely for aesthetics; it's a statement, a conversation piece, and a source of inspiration.
Endless Personalization

One of the remarkable aspects of this futon mattress is the variety of gradient options available. People can select from an array of colors to match people room's décor or simply express their unique style. Whether it's the cool, calming blues or warm, earthy tones, there's a gradient to suit every personality.
Crafted with Precision

MAXYOYO has always stood for quality, and the gradient color 6″ Japanese futon mattress is no exception. It maintains the same high standards of premium materials and expert craftsmanship that customers come to expect from MAXYOYO. The durable design ensures that people's investment lasts and continues to be a conversation starter.
Futon Mattress: More Than Sleep
MAXYOYO's futon mattresses have always been about multifunctionality, and the gradient color 6″ floor mattress takes it to the next level. This is a sleeping surface, that can transform the room into a stylish, cozy space.
Embracing Innovation

MAXYOYO has a history of embracing innovation, and the introduction of gradient colors to their floor futon mattresses is a testament to their commitment to both tradition and modernity. It's a fusion of timeless comfort and contemporary aesthetics.
Transforming Spaces

This innovative Japanese futon mattress is about transforming people's living spaces. Whether it's a bedroom, a reading nook, a cozy corner, or any other spot people choose, the gradient color 6″ futon mattress by MAXYOYO adds a touch of style that's as unique as people are.
Elevate Customers' Lifestyle

MAXYOYO has always believed that customers' living space is an extension of customers' personalities. With the 6-inch gradient color futon mattress, people can elevate people's lifestyles by adding a touch of style and art to their everyday surroundings.
Experience MAXYOYO
The gradient color 6-inch futon mattress by MAXYOYO offers a good experience. People who like obvious personal style and fashion elements can try this futon mattress, which will highlight the style of the space when paired with unique room decorations.
Maximizing Style and Comfort

MAXYOYO's gradient color 6″ floor futon mattress isn't just about comfort, and it's not just about style – it's about maximizing both. It's a new way to enjoy space and express personality.
The Future of Design

In the ever-evolving world of design, MAXYOYO's gradient color 6-inch floor mattress is a glimpse into the future. It's a sign that even the most traditional pieces of furniture can be reinvented to match the modern world's demands for style and innovation.
Unleash People's Creativity

The gradient color 6″ futon mattress is an invitation to unleash People's creativity. It's a blank canvas that people can use to paint people's dreams and define space in a way that speaks volumes about who people are.
About MAXYOYO
MAXYOYO's creative philosophy will allow more people to enjoy the flooring lifestyle. Ordinary life and space are different because of the gradient color 6 inch Japanese futon mattress. MAXYOYO will continue to work hard to bring people more excellent and comfortable new products.
Max yoyo
MAXYOYO
+86 182 5608 4094
email us here
Visit us on social media:
Facebook
Instagram
YouTube
Other
Our mission is make life get comfortable—MAXYOYO


Originally published at https://www.einpresswire.com/article/666278718/maxyoyo-s-futon-mattress-prettify-people-s-space-with-the-latest-stylish-gradient-colors