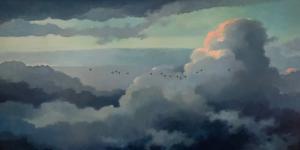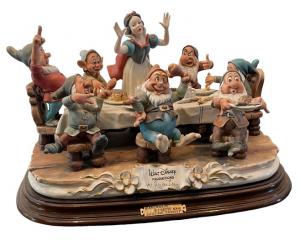 Snow White and the 7 dwarfs by Enzo Arzenton
Glass Art Sculpture, James Nowak with Chris Hawthorne Artists Collaboration 1991 "Sea Motif"
BEVERLY HILLS, CA, UNITED STATES, October 19, 2023 /EINPresswire.com/ — Kings Auctions Inc. in collaboration with Kings Auctions Las Vegas, and Kings Auctions Austin Texas, present their next collectibles event on November 4, 2023 at 9:00 AM Pacific Time. The event includes over 600 lots of fine art, Art Glass, Disney collectibles, and mint condition estate jewelry.
Featured is oil on board, Eric Sloane's "The Perfect Flying Machine". Sloane was an accomplished American landscape artist, author, and illustrator who was renowned for his captivating paintings of rural and historical scenes. He was born in New York City in 1905 and spent his formative years in New Jersey, where he developed a passion for nature and the outdoors.
Sloane is most famous for his oil paintings, which depict the picturesque countryside in vivid detail and highlight the beauty of the natural world. He believed that through his artwork, he could recapture the simple way of life that had vanished from the modern world.
Sloane's art can also be found in many public places, particularly in museums and galleries across the US. His famous works include "Early Spring, New England," "The Weather Book," and "A Reverence for Wood."
Also featured in the event is a collection of art glass from a private collector in Newport Beach California. The premier piece in the collection is by James Nowak and Chris Hawthorne. Born in Adelaide, Nowak began his artistic journey working as a potter before eventually transitioning to fused and slumped glass in 1990. Since then, he has become renowned for his intricate, organic designs that are inspired by his surroundings in South Australia.
Nowak's work is highly sought after by collectors and museums around the world. He has exhibited his pieces in numerous solo and group shows in Australia, the United States, and Asia, and his work can be found in the collections of the National Gallery of Australia, the Victoria and Albert Museum, and the Chihuly Collection, among others.
A rare collection of porcelain Disney Collectibles by Enzo Arzenton is also available for your consideration.
Enzo Arzenton was an Italian ceramicist who began his career in the late 1950s. He quickly gained recognition for his impeccable attention to detail, impressive technical skill, and artistic flair. His talent caught the attention of Walt Disney, who commissioned him to create a series of porcelain figurines based on some of the studio's most beloved characters.
Arzenton worked closely with Disney designers to create figurines that were true to the characters' personalities and appearance. He spent countless hours researching each character's details, from their costume designs and color palettes to their facial expressions and mannerisms.
The result was a series of stunning figurines that became instant collectors' items. Each piece was handcrafted from the finest porcelain, with delicate details and intricate accents that brought the characters to life. Arzenton's work captured the magic and playfulness of Disney's creations, while also showcasing his exceptional skills as a craftsman.
Arzenton's figurines quickly gained a cult following, with collectors around the world clamoring to add them to their collections. His collaboration with Disney spanned several decades, with new characters and designs being added to the collection over time. Some of the most popular pieces include the Seven Dwarfs, and Sleeping Beauty, which are lots 5 and 6.
In addition the event presents fine art by notable artists such as Salvador Dali, Peter Max, Alberto Vargas, Michael Schliting, Robert Frame, and Nick Phillips as well as over 150 lots of mint condition estate jewelry.
The live online event begins promptly at 9:00 AM Pacific Time and prior registration is recommended.
For more information about this or future events, to submit your items for a free auction estimate, or inquiries as to the full scope of services provided by Kings Auctions Inc., contact any of the twenty five Kings Auctions Inc. locations across the USA.
Allie Jones
Kings Auctions Inc.
+1 310-857-8367
email us here
Visit us on social media:
Facebook
Twitter
Instagram
YouTube


Originally published at https://www.einpresswire.com/article/661832249/rare-disney-collectibles-art-glass-estate-jewelry-and-art-by-eric-sloane-alberto-vargas-salvador-dali-and-peter-max