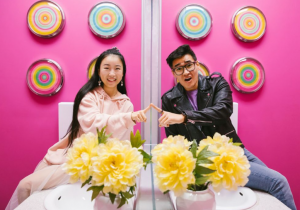 While most museums focus on passive exhibitions, the Selfie Museum instead offers exhibits that are interactive and visitors can directly interact with.
LAS VEGAS, NEVADA, UNITED STATES, August 23, 2023/EINPresswire.com/ — Located at 3545 S Las Vegas Blvd, Ste L-07B, Las Vegas, NV 89109, the Selfie Museum of Illusions is offering Los Angeles locals a new way to experience the art of selfies as well as a different approach to the idea of museums themselves.
As explained by the staff behind selfie world the museum aims first and foremost to offer an interactive experience to any visitors. While most museums focus on passive exhibitions that visitors are meant to enjoy from a distance, the Selfie Museum instead solely offers exhibits that are interactive and in most cases visitors can directly interact with.
Their current assortment of exhibits ranges from visually appealing locations inspired by online cultures like the Emoji Pool or the Game of Thrones throne itself, to elaborate optical illusions like the Upside Down Room and the Optical Illusion Bathroom which use visual principles to offer experiences that challenge perspective, color perception and more.
When describing the museum the team behind it has gone to great lengths to describe it as a selfie studio first and foremost. Being able to provide visitors with the perfect background for their shots is their first and foremost concern, and every single attraction and exhibit has been designed with the idea of taking selfies in mind.
With this unique approach, the Museum aims to provide a different kind of experience from what most people might associate with traditional museum trips. The Selfie Museum is designed with enjoyment and interactivity first and foremost and that is a design choice that goes beyond the exhibits themselves.
As explained by the staff themselves they are always a willing and important part of the selfie experience at the museum. The staff is trained to assist visitors with any information they might need on how to use each exhibition, but also to offer tips, advice, and other assistance when it comes to the photo-taking sessions themselves.
Regarding its current operations, the company also proved optimistic about its prospects and current results. The team mentioned their highly-rated online reviews as a major point of pride and explained that word of mouth as well as influencer exposure has helped them improve their outreach and visitor numbers considerably. As of right now, the museum staff pride themselves in their exhibits being an unmissable experience in Las Vegas, and the number of monthly visitors largely agrees with their assessment.
Individuals interested in visiting the Selfie Museum in Las Vegas can obtain their tickets today through the official website and plan their visit ahead of time. Tickets are sold with a given date at the moment of purchase, but the team explained that in case of an inconvenience or unexpected setback, tickets are transferrable, as QR codes are tied to the act of entering the museum itself, not to a given visitor.
The Selfie Museum in Las Vegas is proud to announce its current selection of exhibitions and has hinted at the interest in offering more unique selfie studio opportunities as their growth allows. Interested individuals are recommended to stay in touch with the Museum through social media and the official website.
Amanda Stark
Museum of Selfies
+1 702-518-2277
email us here
Visit us on social media:
Facebook
Instagram
Other


Originally published at https://www.einpresswire.com/article/651486598/selfie-museum-opens-in-las-vegas