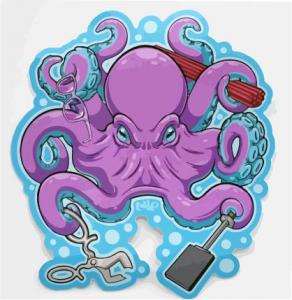 Our aim is to create a tangible, intimate connection with those we've lost."
— Tako Glass Founder and CEO
SEQUIM, WA, UNITED STATES, August 2, 2023/EINPresswire.com/ — Tako Glass, a trailblazing company renowned for its one-of-a-kind custom glass pipes, announced today the launch of its innovative new service: custom pipes, pendants, Christmas ornaments, and other glass products infused with the ashes of loved ones.
The first of its kind, this unique offering transforms the way we remember and pay tribute to those who have departed. Tako Glass bridges the gap between art and memorial, crafting deeply personal, functional tributes that allow customers to keep a part of their departed loved ones close.
"Our aim is to create a tangible, intimate connection with those we've lost," says Tako Glass Founder and CEO. "These aren't just pipes; they're deeply personal, symbolic items. Each one is a unique tribute that captures the essence of an individual, embodying their spirit in a beautiful piece of functional art."
The ash-infusion process begins with the sterilization of the ashes to ensure safety. They are then carefully incorporated into the glass during the creation process, fusing them permanently into the pipe. The result is an ethereal swirl, creating a design that's as stunning as it is meaningful.
With a commitment to customer collaboration, Tako Glass artisans work closely with each client, getting to know their stories, understanding their vision, and helping them channel their feelings and memories into a lasting, physical tribute.
The response has been overwhelmingly positive, with many clients describing the process as cathartic and therapeutic. "Designing the pipe felt like a new way to remember and mourn," shared one customer. "It's a comforting, beautiful reminder that they're still with us."
In the contemplative act of using these glass products, users can further connect with the memories of their loved ones, making this tribute one that is not only seen but deeply experienced.
About Tako Glass:
Founded on the principles of individuality, craftsmanship, and innovation, Tako Glass specializes in the creation of unique, high-quality glass pipes. With a keen eye for detail and a dedication to the art of glassblowing, Tako Glass consistently pushes boundaries, producing stunning, functional pieces of art that stand out in the market. With their latest ash-infused pipe offering, Tako Glass continues to pave the way for creative, personal memorials.
For more information, visit www.takoglass.com
Ralph Richie
TakoGlass
+1 360-460-6121
email us here
Visit us on social media:
Facebook
Instagram
YouTube


Originally published at https://www.einpresswire.com/article/647784639/tako-glass-debuts-revolutionary-ash-infused-custom-glass-products