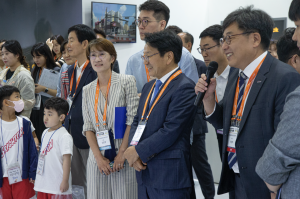 The '2023 Gwangju ACE Fair (Asia Content & Entertainment Fair)' at the Kim Dae-Jung Convention Center from September 14th-17th ended with an impressive result.
GWANGJU, REPUBLIC OF KOREA (SOUTH), October 10, 2023 /EINPresswire.com/ — The '2023 Gwangju ACE Fair (Asia Content & Entertainment Fair)' held at the Kim Dae-Jung Convention Center from September 14th to 17th concluded with impressive results. Over 35,000 visitors attended the event, and the fair facilitated investment consultations worth $200 million.
Hosted by Gwangju Metropolitan City and the Ministry of Culture, Sports, and Tourism of the Republic of Korea, the Gwangju ACE Fair was themed "Content Dive!". It garnered significant interest from content companies worldwide with 914 export consultations, resulting in a business consultation amount of $200 million.
Local content companies in Gwangju also achieved export success during the fair. Studio G.Baba, an animation maker and immersive content production company, signed a memorandum of understanding (MOU) with India's animation giant Hi-Tech Animation Studio for a $1 million animation co-production.
Studio Button, another local animation company in Gwangju, signed an agreement with China's VineTalk Creative to distribute the video content for "Dinoman" Season 1 and 2. The broadcast is set for April 2024 in China, creating significant anticipation.
The 2023 Gwangju ACE Fair featured participation from 400 content companies from 33 countries, occupying 510 booths. The fair showcased diverse content and new products spanning broadcasting, animation, characters, holograms, virtual reality (VR) experiences, extended reality (XR) games, and digital content, capturing the attention of domestic and international buyers and visitors.
Notable companies like CJ ENM, SK Broadband, LG HelloVision, JobPlusTV, Daekyo Kids TV, Indonesia's PT Metropolitan Televisindo (RTV), China's Mango TV, Cuba's Canal Habana, Brazil's TV Globo, among others, participated in the event.
Other events took place concurrently with the 2023 Gwangju ACE Fair. The Gwangju Information & Content Agency (GICON) organized the 2023 Gwangju Story Festival, featuring conferences of story pitching and consultations. Meanwhile, the 2023 Web Animation Festival (WAF) offered various programs, including webtoon author talks and drawing shows. Lastly, the Global Game Developers Conference added this year explored the potential of Gwangju as an E-Sports city, with the theme 'Evolution in Capability and Possibility of Game Developers.'
During the weekend, various auxiliary events received a warm response from attendees, including the "Random Play Dance feat. Play with Me Club" by Daekyo Kids TV, bubble shows, Semoears Market, Juicy Festival, and more. Play with Me Club is a program by Daekyo on TV and online featuring teen content creators helping their peers to adapt to Korean culture. Semoears Market is an occasional market at Gwangju for handmade products and stationeries. The 4th Gwangju ACE Illustration Fair and a character parade also added to the diverse experience.
Kim Yo-sung, Head of Gwangju City's Culture and Sports Department, emphasized that the Gwangju ACE Fair focused on business programs that catered to the demands of content experts and companies. The event aimed to strengthen the competitiveness of the content industry and establish itself as a market for content's international expansion.
The 2023 Gwangju ACE Fair, themed "Content Dive," showcased various segments of the content industry, including broadcasting, animation/characters, and digital content (games, VR/AR). The event featured export consultations, networking parties, the Content Development Conference (CDC), regional cultural infrastructure tours, and more, offering comprehensive programs for the content industry. Visitors could also experience games ranging from retro games to VR games, board games, the Gwangju International ACE Illustration Fair, the 16th Youth Broadcasting Content Competition, K-POP random play dance, and various other auxiliary events. The exhibition was co-hosted by the Ministry of Culture, Sports, and Tourism and Gwangju Metropolitan City, with Gwangju Tourism Organization, Gwangju Information & Content Agency (GICON), KOTRA, Gwangju Design Center, and the Korea Cable Television Broadcasting Association as organizers.
Davis Kim
AVING News
+82 2-856-3276
email us here
Visit us on social media:
Facebook
Twitter
Instagram
YouTube


Originally published at https://www.einpresswire.com/article/660823318/the-2023-gwangju-ace-fair-generated-35-000-visitors-and-200-million-in-export-consultations-with-diverse-new-contents