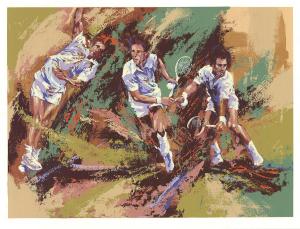 Wayland Moore's art transcends mere visual appeal. It's a celebration of life, passion, and sports."
— Catherine Martens Betz
NEW ORLEANS, LOUISIANA, UNITED STATES, August 22, 2023/EINPresswire.com/ — Wayland Moore, an acclaimed artist renowned for his dynamic integration of sports into the artistic idiom, continues to captivate audiences around the world. A rare talent known as an "artistic triple threat" with a mastery in illustration, cartooning, and painting, Moore's contributions to art and sports have been unparalleled.
Achievements and Accolades
A recipient of critical acclaim, Moore is one of the few Southerners belonging to the prestigious Society of Illustrators of New York. His 1967 work for the Sarasota, Florida Herald-Tribune led to a Pulitzer Prize nomination in editorial cartooning.
His artistic assignments have spanned an impressive range, from covering the Indianapolis 500 and PGA Golf Tournaments to the legendary Billie Jean King-Bobby Riggs tennis match. A book consisting of his Florida Sketches and a front-page cartoon in the permanent collection of Walt Disney Studios are just glimpses of his diverse accomplishments.

A Fusion of Art and Sports
Moore's unique background as a football player turned artist adds a distinct touch to his work. Having majored in commercial design at the Ringling School of Art in Sarasota, Florida, Moore subsequently worked for various institutions, including a design house in Greenville and as the art director for an NBC-TV affiliate.
In 1971, Moore opened Wayland Moore Studios at Atlanta Stadium, merging his artistry with his passion for sports as the graphics director for the Atlanta Braves.

A Global Artistic Presence
Internationally acclaimed for capturing the excitement of events like the Winter and Summer Olympics, America's Cup, US Open, the Masters, and more, Moore has exhibited throughout the US and Europe. His original works and limited edition prints are proudly displayed in private and corporate collections, and he is listed in Who's Who of American Art.
Catherine Martens Betz, owner of the Elliott Gallery in New Orleans, expresses her admiration for Moore's work: "Wayland Moore's art transcends mere visual appeal. It's a celebration of life, passion, and sports. As an art gallery that cherishes originality and spirit, we are honored to showcase his works. His ability to capture a moment without freezing it is a testament to his extraordinary skill and his athletic background."
A Humanitarian Artist
Moore's influence extends beyond the canvas. He has conducted workshops and taught painting at Emory University for over 15 years. His innovative concept of teaching art to federal inmates earned him a White House commendation.
His work in the remote locations of Africa and his ability to capture the excitement of landscapes from Alaska to Europe adds another dimension to his art.
Invitation to Experience Wayland Moore's Art
Art enthusiasts, sports lovers, and admirers of Moore's unique artistic expression are invited to explore his creations. His ability to merge the thrill of sports with artistic elegance continues to resonate with audiences worldwide.
For more information on Wayland Moore's art, including inquiries for exhibitions, please contact the Elliott Gallery in New Orleans.
ABOUT WAYLAND MOORE
Wayland Moore is a native of Belton, South Carolina, and a graduate of the Ringling School of Art & Design. His unique integration of sports into art has made him a leading figure in the contemporary art scene.
ABOUT THE ELLIOTT GALLERY
Located in New Orleans, the Elliott Gallery is a prestigious art gallery hosting the works of numerous renowned artists, including Wayland Moore. With a focus on uniqueness and creativity, the gallery is a hub for art lovers.
Morgan Thomas
Rhino Digital, LLC
+1 504-875-5036
email us here
Visit us on social media:
Facebook
Originally published at https://www.einpresswire.com/article/651320998/wayland-moore-the-artistic-triple-threat-with-a-sports-idiom