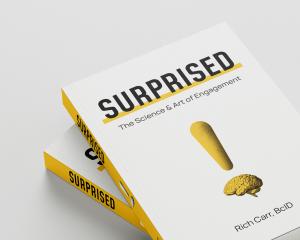 "SURPRISED: The Science & Art of Engagement" launches today, offering groundbreaking insights, frameworks and templates to harness Surprise for success.
Everything we remember is shaped by Surprise."
— Rich Carr, Learning Scientist
PUYALLUP, WA, UNITED STATES, October 6, 2023 /EINPresswire.com/ — After much anticipation, the groundbreaking book "SURPRISED: The Science & Art of Engagement" by celebrated author Rich Carr is now available to the public. The release marks a significant moment in the realm of cognitive studies and self-improvement, offering readers in-depth applications and insights into the transformative power of Surprise .
While many have only a fleeting understanding of Surprise as an emotion, Carr delves deep, unearthing its vast implications for engagement, personal growth, and success. Drawing upon years of research, anecdotal evidence, and personal experiences, "SURPRISED" paints a compelling picture of how this singular emotion shapes our interactions, decisions, and overall worldview.
Handling surprise effectively isn't about being smarter or more knowledgeable. It's about understanding the elements of surprise and using them to your advantage. Anyone can thrive in good conditions, but with the insights from "SURPRISED," you'll be able to turn even the unexpected scenarios into moments of triumph.
Key highlights from "SURPRISED" include:
-An exploration into why Surprise is the most potent emotion and how it impacts our day-to-day lives.
-Practical strategies for harnessing the power of Surprise to boost engagement, forge stronger relationships, and drive success.
-Real-world anecdotes that bring the science and art of engagement to life.
Author Rich Carr commented on the release, "Surprise is an instrument we can manage, a catalyst, and when understood, can be a game-changer in both our personal and professional lives."
Uncover the Power to…
-Use a proven approach to create engaging, memorable experiences
-Take charge of unexpected events, turning them to your advantage
-Build a system for ongoing, intuitive success
-Recognize and shift patterns that have been blocking your progress
-Avoid hidden pitfalls that have been secretly tripping you up
-Develop an environment that naturally promotes your desired actions
-Adjust your viewpoint to see situations with fresh eyes
-Keep cool, even when those around you can't
-Get back on course after mistakes with grace
-Turn everyday moments into powerful, positive outcomes
-And most importantly, apply these concepts in real, practical ways in your daily life and work.
Make "SURPRISED" your guide to mastering the unexpected and creating a future rich in innovation and success.
"SURPRISED: The Science & Art of Engagement" is available in Kindle and paperback formats and coming soon to Audible, voiced by the author.
Lyle Evansiano
Brain-centric, LLC
email us here
Visit us on social media:
LinkedIn
YouTube
SURPRISED: The Science & Art of Engagement available Now!
Originally published at https://www.einpresswire.com/article/659948284/surprised-the-science-art-of-engagement-is-available-now