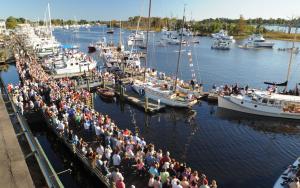 Autumn brings an array of exciting events that showcase the Hammock Coast's vibrant offerings
MYRTLE BEACH, SC, US, October 5, 2023 /EINPresswire.com/ — As autumn descends upon South Carolina's Hammock Coast, it brings with it an array of exciting events that showcase the region's vibrant offerings. From the arts to eco activities and athletics, the Hammock Coast has something for everyone during the fall months.
Here are a quartet of activities worth building a weekend trip around.
Tour de Plantersville

• Date: October 28

• Location: Scenic Byway

• Event Description: Join us for a day of exercise and discovery with bike rides of 12, 25, or 62 miles, taking you through colonial-era plantations and more. Rentals available from Pee Dee Bicycle Company and Cyclopedia of Pawleys Island. After the ride, enjoy a Cultural Festival from 9 a.m. – 2 p.m. with live music, food trucks, and kid-friendly activities.

• More Information: TourdePlantersville.com
Georgetown Wooden Boat Show

• Date: October 21-22

• Location: Waterfront and Front Street in Historic Georgetown

• Event Highlights: Featuring 140+ classic wooden boats, children's model boatbuilding, knot tying, maritime art, crafts, food, and music. Don't miss the Wooden Boat Challenge when teams of two race to build a rowing skiff within a 4-hour time limit and then test their boats for seaworthiness in a rowing relay on the Sampit River and explore the historic Georgetown.

• Admission: Free

• More Information: WoodenBoatShow.com
Pawleys Island Festival of Music & Art

• Date: October 5-21

• Event Lineup: From the Songs of Sinatra & Friends to the Doo Wop Project and more, experience outstanding music and support the arts along the Hammock Coast.

• Details/Tickets: PawleysMusic.com
Brookgreen Gardens

• Brookgreen Gardens is one of the crown jewels of the Hammock Coast and that's certainly the case when the leaves begin to turn. Whether you want to experience "Yoga in the Garden," "Brew at the Zoo," or any of the property's events, make sure you check the calendar and see what's happening at Brookgreen Gardens.

• More Information: BrookGreen.org
For more information about everything happening along the Hammock Coast, visit HammocCoastSC.com.
About South Carolina's Hammock Coast

Georgetown County's casual charm and Southern hospitality earned it the nickname Hammock Coast. Adventure and relaxation blend together in perfect harmony, like the flowing and ebbing of waves on the county's famed beaches. With six communities – southern Garden City, Murrells Inlet, Litchfield, Pawleys Island, Georgetown and Andrews – comprising the pristine coastal area between Myrtle Beach and Charleston, visitors can experience South Carolina's Hammock Coast like never before.
Chris King
Kingfish Communications
+1 843-685-1364
email us here
Originally published at https://www.einpresswire.com/article/659668705/tour-de-plantersville-georgetown-wooden-boat-show-headline-loaded-event-lineup-along-south-carolina-s-hammock-coast