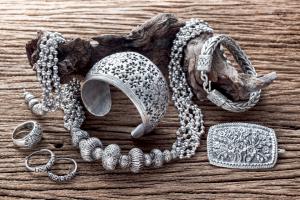 Heirloom jewelry isn't just about the intrinsic value of the materials…It's about the stories, the craftsmanship, and the historical significance that these pieces carry with them."
— Ken Bowers
NEW ORLEANS, LOUISIANA, UNITED STATES, November 15, 2023 /EINPresswire.com/ — In a world where fast fashion and transient trends have become the norm, heirloom jewelry stands out as a beacon of sustainability and enduring value. The Quarter Smith, a prominent buyer of gold, diamonds, watches, and precious metals, sheds light on the burgeoning market for heirloom pieces and their increasing worth in today's economy.
Ken Bowers, owner of The Quarter Smith Jewelry in New Orleans, states, "Heirloom jewelry isn't just about the intrinsic value of the materials from which it's made. It's about the stories, the craftsmanship, and the historical significance that these pieces carry with them."
The Growing Appeal of Heirloom Jewelry
The market for heirloom jewelry has seen a notable upswing in recent years. This resurgence is driven by various factors, including the desire for unique pieces with historical character, the environmental benefits of repurposing precious materials, and the investment potential of well-crafted, timeless items.
"Heirloom pieces are increasingly being viewed as tangible connections to the past. They provide a sense of continuity in a world that's rapidly changing," explains Bowers. "This emotional value, combined with the quality of materials and workmanship, often means that these pieces can appreciate over time."
Heirloom Jewelry as an Investment
Heirloom jewelry often comprises high-quality gems and metals, with craftsmanship that is rarely seen in modern mass-produced jewelry. "These pieces were made to last," Bowers adds. "They were made to be passed down through generations, which is something our customers appreciate and seek out."
The rarity of certain vintage pieces, particularly those from bygone eras or discontinued lines from renowned designers, can make them highly sought after in the current market. This scarcity can drive up their value, making heirloom jewelry a viable investment opportunity.
The Quarter Smith's Role in the Market
The Quarter Smith has established a trusted reputation since 1978, becoming one of the south's premier jewelers and a respected authority in the purchase of heirloom pieces. With a keen understanding of market dynamics and an appreciation for the artistry behind each piece, The Quarter Smith offers a professional service that honors the legacy of heirloom jewelry.
"We assess each item not just on its material worth but also considering its design and historical value," says Bowers. "Our clients come to us because they know we appreciate the full worth of their heirlooms."
The Environmental Impact
In an age of environmental consciousness, the preference for heirloom jewelry aligns with a broader trend towards sustainable consumer practices. By choosing to sell, purchase, or wear heirloom pieces, individuals make an eco-friendly choice, reducing the demand for new mining and production.
The Quarter Smith recognizes this trend and ensures that each transaction respects the environmental ethos that many clients value. "Our customers are not just selling or buying jewelry; they're making a statement about their commitment to sustainability," Bowers remarks.
Heirloom Jewelry in Estate Sales
The Quarter Smith has also observed a spike in the presence of heirloom jewelry in estate sales. As these pieces come to market, they offer a snapshot into the history and tastes of a bygone era. "Estate sales can be treasure troves for heirloom jewelry, often uncovering remarkable pieces that have been out of sight for decades," shares Bowers.
The Personal Touch
Understanding the personal nature of heirloom jewelry, The Quarter Smith ensures that each client's experience is handled with respect and sensitivity. "For many, parting with an heirloom piece can be emotional. We provide a service that acknowledges this," Bowers emphasizes.
The personal approach extends to meeting clients at their chosen location, be it their bank or The Quarter Smith's secure premises, ensuring convenience and peace of mind.
A Trusted Partner
The Quarter Smith's bond with the community is built on trust and professionalism. As a bonded and insured establishment, it provides a safe harbor for those looking to sell or understand the value of their heirloom jewelry.
"Our aim is to be a trusted partner for our clients – one that offers reliable information, fair assessments, and a secure service," Bowers concludes.
Conclusion
The increasing value of heirloom jewelry in today's market is a testament to the lasting appeal of quality, history, and sustainability. The Quarter Smith remains committed to facilitating the discovery and transition of these pieces, ensuring they find their way to new owners who will continue their storied legacies.
Morgan Thomas
Rhino Digital, LLC
+1 504-875-5036
email us here
Visit us on social media:
Facebook
Originally published at https://www.einpresswire.com/article/668786614/the-rise-in-value-of-heirloom-jewelry-understanding-the-market-with-the-quarter-smith