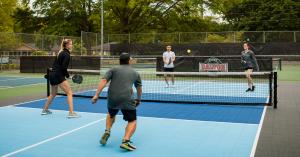 VersaCourt Pickleball Performance Tile
VersaCourt Pickleball Courts
Pickleball Performance Tile features 39.7% Force Reduction along with PLAYRIGHT Technology
DALTON, GA, USA, August 11, 2023/EINPresswire.com/ — Having grown at a rate of 159% over the last three years, pickleball has quickly become America's fastest growing sport. Over 36 million people of all ages played the game last year and pickleball courts are being built at a faster rate than ever before.
Most of these pickleball courts will utilize the same type of surface as hard court tennis courts…and have a lot of the same problems. As their name implies, "hard courts" are hard on the players' bodies. In addition, they don't drain well, require fairly periodic maintenance can be very expensive to build.
VersaCourt's new Pickleball Performance tile helps solve these problems and more. To provide more comfort to players, the tile features a slight vertical flex and side-to-side movement that provides forgiveness for players' knees, joints and lower backs. This player-friendly design combines with a special shock-absorbing material to yield a 39.7% reduction in force (as tested in accordance with ASTM 2569).
The result is a pickleball court that is safer and more comfortable for players – something very important to older players who are some of the sport's most active participants. And thanks to the tile's PLAYRIGHT Technology, players can have this added safety and comfort, but with improved performance.
"Historically, pickleball players loved VersaCourt's tile surfacing because of its forgiveness on their knees, joints and lower backs. However, like many tile systems, our first generation tiles performed better for sports like basketball and volleyball. The new Pickleball Performance tile with PLAYRIGHT technology has been designed specifically for recreational pickleball courts," said Josh Nelson, Vice President of Tile Division for The Recreational Group. "It is a safer, more comfortable court surface than a 100% polypropylene system. Pickleball Performance still yields the best playability and ball bounce available in a modular court."
While the new tile is marketed primarily for recreational play, it has drawn immediate interest from event organizers looking for portable pickleball courts and from racket clubs, resorts and senior living communities looking for a comfortable, safe and cost-effective alternative to acrylic or hard court surfaces for their players and guests.
For those looking to build a backyard pickleball court, (https://www.versacourt.com/outdoor-pickleball-courts.html) Pickleball Performance tile is an ideal DIY option. Not only can it be outfitted with other game lines to create a multi-sport game court, but VersaCourt's Foundation Panel system also allows one to build a court without concrete or asphalt, potentially lowering the complexity and cost to build a pickleball court. (https://www.versacourt.com/cost-of-pickleball-court.html)
Pickleball Performance tile is available in a variety of colors and can be customized with logos, brands or other artwork. It's easy to clean, drains quickly after rain, and has an expected life of 25-30 years. Visit VersaCourt today to learn more about our new Pickleball Performance Tile and speak to one of our Dedicated Court Consultants.

Lso
***
About VersaCourt

VersaCourt is a leading U.S. manufacturer and supplier of versatile, modular court solutions used in the construction of residential and commercial sport and game courts. Founded in 2004, the company has grown to be an industry leader due to its focus on providing versatility, value and service. Based in Dalton, Georgia, VersaCourt is part of The Recreational Group. To learn more please visit www.versacourt.com.
About The Recreational Group

The Recreational Group is a leading designer, manufacturer and installer of premium recreational surfacing products including synthetic turf and recreational tile. The company's vertically integrated manufacturing capabilities include a diversified product and services offering that is supported by a best-in-class customer experience. To learn more, please visit www.RecreationalGroup.com.
Delanie Nelson
VersaCourt
+1 800-540-4899
[email protected]
Visit us on social media:
Facebook
Twitter
LinkedIn
Instagram
YouTube
Other
Pickleball Performance – Pickleball Tile by VersaCourt


Originally published at https://www.einpresswire.com/article/645502244/versacourt-introduces-comfortable-tile-for-pickleball-courts