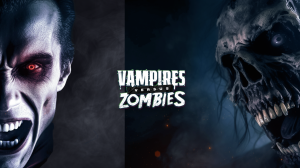 Questo Vampires vs Zombies Experience
Questo Vampires vs Zombies Experience_Mood
Questo is offering some unusual prizes for the best Halloween costumes at its upcoming Vampires vs Zombies Experience on Saturday, October 28, 2023
We are excited to launch a new type of event just in time for Halloween, where Questo can bring its magic. I look forward to seeing many happy families and groups of friends crawling the streets."
— Alex Govoreanu, CEO of Questo
USA, September 19, 2023/EINPresswire.com/ — Questo, a leading provider of outdoor entertainment experiences, is offering some unusual prizes for the best Halloween costumes at its upcoming Vampires vs Zombies Experience. The event will take place on Saturday, October 28, 2023, in more than 150 cities across the United States.
Attendees who are dressing up for the event can qualify to win a life-sized coffin, a lifetime garlic supply, $2000 in cash and more other prizes.
The Vampires vs Zombies Experience is an interactive event where participants choose sides (vampires or zombies) and compete against each other for survival, while showcasing their amazing costumes. The event is described as a mix between an outdoor escape room-style game, a scavenger hunt, and an interactive tour of the city.
To qualify for the costume contest, participants must dress up in a creative and original costume that reflects the theme of the event. However, it's not mandatory to wear a costume to attend the event.
The activity is family-friendly but mostly adult-oriented, kids over 12 can participate if accompanied by adults.
Tickets are now available on the Questo website.
ABOUT QUESTO

Questo is the award-winning platform that turns cities into playgrounds.
Blending iconic fictional stories with real-world environments, the Questo experiences transform any day out with friends and family into an extraordinary adventure.
Questo is currently present in more than 60 countries around the world, with the number of locations rapidly increasing. It has been organizing events since 2017, with more than 350,000 people participating so far.
Claudiu Petria
Questo
[email protected]
Originally published at https://www.einpresswire.com/article/656367404/the-ultimate-halloween-costume-contest-win-a-life-sized-coffin-a-lifetime-supply-of-garlic-or-cash