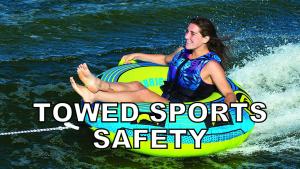 Seventh Title in Video Service's Seventh Season to Premiere July 30
TOWED SPORTS SAFETY reflects outstanding work from 2023 field producers Rich Faga and Randy & Judy Stow and on-camera talent from the Smith Mountain Lake Squadron. We're enormously grateful to them."
— Marty Lafferty
RALEIGH, NORTH CAROLINA, USA, July 30, 2023/EINPresswire.com/ — America's Boating Channel, the U.S. Coast Guard funded boating safety and boater education video service of United States Power Squadrons® (USPS), will publicly debut its seventh Season Seven video title across its smart TV, online, and mobile distribution platforms on July 30.
In making the announcement, America's Boating Channel's Marty Lafferty commented, "TOWED SPORTS SAFETY reflects outstanding work from 2023 field producers Rich Faga and Randy & Judy Stow and on-camera talent from the Smith Mountain Lake Squadron. We're enormously grateful for their participation."
"Thanks also to Josh McClure, Smith Mountain Wake Company, Moneta, VA, and Gills Creek Marina & Lodge, Wirtz, VA for their valuable contributions," he added.
The seventh of twelve videos in the new series, TOWED SPORTS SAFETY, will premiere on Fire TV, Roku, and YouTube, as well as Facebook, Instagram, Twitter, and other social networks at 8 PM EDT on Sunday July 30.
TOWED SPORTS SAFETY covers important considerations for safely water skiing, wake boarding, knee boarding, wake surfing, and tubing. Viewers will learn about proper equipment selection and preparing to tow a person. Also featured are tips for operating underway.
Every ten days throughout the boating season, America's Boating Channel will introduce a new video. Upcoming Season Seven titles include TYING DOCK LINES; INTRODUCING AIS; MARINE RADIO ETIQUETTE; NAVIGATING LOCKS; and BORDER CROSSING. WHY WEARING A LIFE JACKET IS COOL. SLIPS, TRIPS, AND FALLS; PARTNER IN COMMAND; DISEMBARKING HAZARDS; BOATING WITH SMALL CHILDREN; and ENGINE FAILURE CAUSES & CURES launched in June and July.
Smart TV viewers can subscribe to America's Boating Channel for free on Roku and FireTV. On Roku, viewers can select Store using their Roku remotes, click on Channels, search for Americas Boating Channel, and then add the channel. On FireTV, viewers can go to Apps on their FireTV Main Menu, search for Americas Boating Channel, select Get, and then download the app.
Online, the best way to view the videos is to subscribe at no charge to America's Boating Channel on YouTube.
About America's Boating Channel
America's Boating Channel is produced for United States Power Squadrons® (USPS) by Lafferty Media Partners (LMP) under a grant from the Sport Fish Restoration and Boating Trust Fund, administered by the U.S. Coast Guard. The service features professionally produced, high-definition, safe boating and boater education videos, along with boating themed entertainment and informational television programs. America's Boating Channel has been recognized with the National Boating Industry Safety Award as the 2021 Top Marine Media Outlet, and with the 2022 International Boating and Water
Safety Summit Communication Award for the top Video Public Service Announcement (PSA) Series. AmericasBoatingChannel.com
Ron Jones
America's Boating Channel
+1 919-225-0144
email us here
Visit us on social media:
Facebook
Twitter
LinkedIn
Instagram
TOWED SPORTS SAFETY


Originally published at https://www.einpresswire.com/article/646213764/america-s-boating-channel-presents-towed-sports-safety