CANNABABE'S High in the Sky Charity Partner: Women At Risk International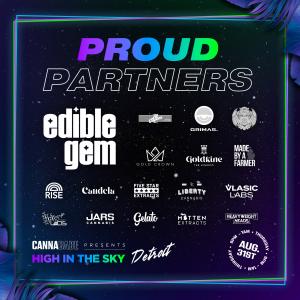 CANNABABE'S High in the Sky Event Sponsors
Empowering Women in Cannabis: 'High in the Sky' Event Unites Changemakers and Fosters Inclusivity with Like-Minded Professionals and Thought Leaders.
DETROIT, MICHIGAN, UNITED STATES, August 30, 2023/EINPresswire.com/ — CANNABABE, an industry leader in empowerment, inclusivity, and social consciousness, is proud to announce its highly anticipated event, "High in the Sky," taking place on August 31st from 9 pm to 1 am. This transformative gathering brings together a vibrant community of like-minded professionals who are passionate about shaping the future of the cannabis industry through shared ideas, partnerships, and fostering deeper connections.
Building on the success of the unforgettable Exclusive Executive Escape Yacht Party, "High in the Sky" aims to surpass expectations by providing attendees with an opportunity to forge new partnerships and shape the industry's future. We can create a world of collaboration, growth, and prosperity for all by facilitating meaningful connections and conversations. CANNABABE remains steadfast in its mission to bridge gaps, uplift marginalized communities, and amplify voices that have long been silenced.
CANNABABE proudly stands alongside Women at Risk International (WAR), headquartered in Wyoming, Michigan, as the charity partner for "High in the Sky." WAR embraces and empowers, fostering safe spaces and offering education to build strong networks of support around those who are most vulnerable through projects that honor diverse cultures and add meaningful value to their lives. By collaborating with WAR, CANNABABE ensures that this event serves as a platform for social impact, engaging with organizations that work tirelessly to uplift and protect both emerging and marginalized communities.
Highlighting the power of diversity and representation in the industry, "High in the Sky" brings together a mesmerizing lineup of talent. The event boasts not one but two incredible female DJs headlining the night. DJ Blondie, renowned for her electrifying beats, will take center stage, weaving a tapestry of tunes that ignite empowerment and inspire action. Joining her, DJ Problematic Black Hottie brings her unique style to the mix, captivating the audience with her infectious energy. Together, these extraordinary artists celebrate the unyielding spirit of women making their mark in the cannabis industry.
Furthermore, "High in the Sky" would not be possible without the generous support of its sponsors. CANNABABE is honored to partner with presenting sponsor Edible Gem, whose commitment to quality and responsible consumption shines through their innovative and delightful cannabis-infused creations. Additionally, Grimas joins as a Gold Sponsor, standing alongside CANNABABE in their dedication to empowering and uplifting marginalized communities.
The event also showcases exceptional brands that embody CANNABABE's commitment to quality and innovation, including Michigander Fire, Gold Crown Extracts, Vlasic Labs, Liberty Cannabis, Five Star Extracts, Al Capone, Goldkine, Candela, MBAF/Lit Labs, Mitten Extracts and RISE Meds. These industry leaders bring unique perspectives and exceptional products that enrich the cannabis community and cultivate a culture of inclusivity and excellence.
"High in the Sky" is more than just an event; it is an opportunity to create meaningful connections, foster collaboration, and uplift the voices that drive positive change in the cannabis industry. By promoting social and cultural connections, CANNABABE continues to pave the way for progress and a more inclusive future for all.
CANNABABE is an empowering, inclusive, and socially conscious industry leader. Committed to promoting social justice, equality, and representation, CANNABABE harnesses events, partnerships, and advocacy to bridge gaps and amplify voices. By inspiring action and solidarity, CANNABABE lays the foundation for a more inclusive and compassionate future.
CANNABABE
CANNABABE
+1 734-635-7489
email us here
Visit us on social media:
Instagram


Originally published at https://www.einpresswire.com/article/652554807/cannababe-collaboration-high-in-the-sky-event-unites-changemakers-for-an-inclusive-future