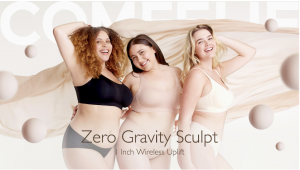 New "Zero Gravity" Collection Said to Use Innovative Tech to Provide Both
NEW YORK CITY, NY, UNITED STATES, September 8, 2023/EINPresswire.com/ — Intimates brand COMFELIE has launched its new bra collection – the Zero Gravity Sculpt Collection which features the groundbreaking ComfyLift Tech designed to unite the paradoxical need for both comfort and support in bras.
Traditional bras have forced a choice between comfort and support. Soft, wire-free bras provide comfort but little lift or enhancement. Underwire bras offer sculpting support at the expense of comfort. This seeming paradox has left many women feeling torn.
Comfelie Zero Gravity Sculpt
Through innovative design, the Zero Gravity Sculpt Collection resolves the dilemma, fusing wireless comfort with enhanced lift and support. Its proprietary and one-of-a-kind ComfyLift Tech gently sculpts the bust, while the Oeko-Tex® 100 certified mellow soft microfiber ensures cloud-like softness. The result is a bra which comfortably co-exists with a woman's body while providing desirable uplift.
The Zero Gravity Sculpt Collection has a wide range of bras, including seamless bras for everyday wear, spill-free bras for under shirts, and full coverage options for larger busts. With sizing from B to G cups, COMFELIE bras support the diversity of women. Though each style is designed for different purposes, all three share the same core feature – ensuring comfort and support at the same time.
The concept of zero gravity is inspired by the weightless, unrestrained state experienced by astronauts floating in space. By emulating zero gravity, COMFELIE bras allow women to let go of discomfort and restraints and instead embrace their bodies in a peaceful, relaxed state.
A representative from COMFELIE said, "At COMFELIE, we believe that intimate apparel should make a woman feel confident and comfortable in her own skin, never self-conscious. Our ComfyLift Tech liberates women from physical discomfort, while providing enhancement for her unique shape. No more adjusting, tugging or restraint – Zero Gravity bras move with a woman's body for unrestrained confidence."
More than bras and underwear, The Zero Gravity Sculpt Collection is a celebration of diversity and self-expression, providing a solution for every shape and size. Through its revolutionary ComfyLift Tech, COMFELIE invites individuals to show their style, flair, and gorgeous selves with maximum comfort and support.
About COMFELIE: COMFELIE intimates embody a profound dedication to comfort felicity, designed to make you feel your absolute best. The essence of sheer comfort fuels a euphoric experience, boosting your confidence from the very first layer, regardless of age or size, while providing the unwavering support you deserve. Each refined silhouette possesses a unique and undefined beauty, waiting to be discovered and redefined by your own individuality. At COMFELIE, we firmly believe that all bodies are worthy and deserving, exactly as they are, which is why we've created our intimates to liberate your body both physically and emotionally, ensuring real comfort and support like never before.
Fiona Fan
COMFELIE
[email protected]
Visit us on social media:
Facebook
Instagram


Originally published at https://www.einpresswire.com/article/654588910/comfelie-debuts-bras-claiming-to-resolve-comfort-vs-support-dilemma