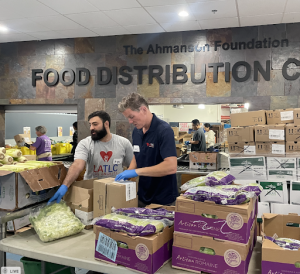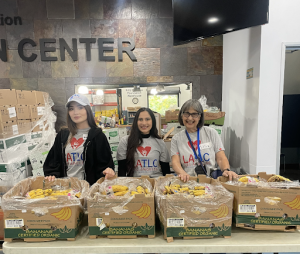 MEND and LATLC Unite to Fight Hunger and Make a Difference in the Community
MEND and LATLC Unite to Fight Hunger and Make a Difference in the Community: A Joint Effort to Alleviate Food Insecurity and Provide Support
PACOIMA, CA, USA, October 5, 2023 /EINPresswire.com/ — MEND (Meet Each Need with Dignity) and the Los Angeles Trial Lawyers Charities (LATLC) are delighted to share the remarkable outcome of a recent community event designed to make a meaningful impact. LATLC selects organizations that make a substantive difference in the community and they are proud to partner with a group like MEND which truly makes a difference in the survival of all families – homeless or on the brink of homelessness.
Event Recap:

On Friday, September 29, 2023, from 9 a.m. to 12 p.m., LATLC supported the extraordinary efforts of MEND at 10641 N. San Fernando Rd. Pacoima, CA, for a special food distribution event. This event aimed to provide essential support to individuals and families facing adversity within the community, with a focus on addressing the challenges they currently endure.
Event Highlights:

During the event, dedicated volunteers from MEND were joined by several volunteers from LATLC who worked tirelessly to distribute bags filled with essential food items to community members in need. This joint initiative sought to alleviate food insecurity and offer crucial assistance to individuals and families who are navigating difficult times, especially during the ongoing challenges our community faces.
Why Now?

In a world where obstacles often appear insurmountable, the partnership between MEND and LATLC serves as a shining example of how compassionate organizations can create a profound impact on local communities. This event not only provided essential resources but also embodied the spirit of solidarity and empathy that defines the core missions of these organizations.
About MEND (Meet Each Need with Dignity):

MEND, which stands for Meet Each Need with Dignity, is not just an organization but a symbol of compassion and empowerment. For over five decades, MEND has remained steadfast in its mission, evolving into one of the most comprehensive poverty relief agencies in Los Angeles County. What sets MEND apart is not only the services it offers but also how it delivers them—with unwavering dignity and respect. MEND's mission extends beyond providing mere assistance; it is about uplifting individuals in need and ensuring they are treated with the utmost respect throughout their journey toward a better life. To learn more about MEND, please visit www.mendpoverty.org.
About Los Angeles Trial Lawyers Charities (LATLC):

Established in 2006 by seven committed plaintiff personal injury attorneys, LATLC has always been committed to making a tangible, positive difference in the community. Over the years, LATLC has expanded its focus to encompass various critical areas, including education, children's welfare, support for survivors of abuse, assistance for persons with disabilities, and initiatives to combat homelessness. Presently, LATLC boasts a community of over 3,000 supporters, having contributed more than $5 million in grants and goods, and volunteered for more than 6,000 hours of service to those in need. For further information about LATLC, please visit www.LATLC.org.
For media inquiries or further information, please contact:
Samantha Maez
EPEC Media Group, Inc.
+1 562-201-4357
email us here
Visit us on social media:
Facebook
Instagram
YouTube


Originally published at https://www.einpresswire.com/article/659447139/empowering-los-angeles-mend-feed-and-support-the-community