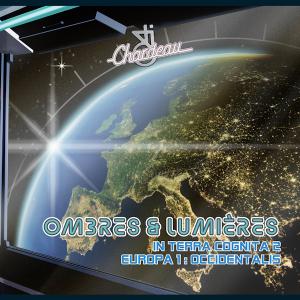 Feat. Members of King Crimson, XTC, Spirit, Supertramp, ELO Part II and Others
ASHEVILLE, NC, USA, August 4, 2023/EINPresswire.com/ — Ombres & Lumières (Shadows & Lights) is the brand new album by Chardeau, a.k.a. The Magical Musical Man. The French artist and composer continues his dreamy and musical trip around the world, started with the previous In Terra Cognita ? in 2019.
This second part (out of 4 planned volumes) is dedicated to Western Europe in 14 tracks, mostly instrumental, served by around fifty musicians, vocalists and guests. The production of this new album lasted three years, in conditions somewhat disturbed by the Covid pandemic and its effects. But the result is miraculous.
Among the guests who have participated to Ombres & Lumières: Danny Seraphine and Jason Scheff (Chicago), Mark Andes (Spirit), John McFee (Doobie Brothers), Jerry Goodman (Mahavishnu Orchestra), John Helliwell (Supertramp), John Jorgenson (The Hellecasters), Eric Troyer (ELO Part II), Pat Mastelotto (King Crimson), Jimmy Haun (Arc of Life) and Dave Gregory (XTC).
JJ Chardeau said of the release: "With the help of my friends I've been able to continue my magical musical journey with this second album. The love for the 'In Terra Cognita?' album from fans has made it all worthwhile and I hope everyone will enjoy this new album!"
To purchase:

Amazon CD: https://geni.us/JJOandMcd

Apple Music: https://geni.us/JJam

Spotify: https://geni.us/JJsp

The album is also available from Cherry Red directly: https://www.cherryred.co.uk/artist/jj-chardeau/
Press inquiries:
Billy James
Glass Onyon PR
+1 828-350-8158
[email protected]
Originally published at https://www.einpresswire.com/article/648271842/jj-chardeau-s-rock-opera-magical-music-man-adds-a-second-album-with-ombres-and-lumi-res-out-now