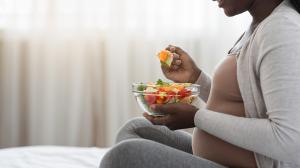 Grant directed to program designed to address food insecurity issues contributing to high infant mortality rates in Cuyahoga County, Ohio
Everyone, especially expectant mothers, deserves nutritious food for healthy birth outcomes. Supporting Nourishing Beginnings strengthens maternal care, bridges food gaps, and impacts Ohio and beyond."
— Ansir Junaid
CLEVELAND, OHIO, UNITED STATES, October 31, 2023 /EINPresswire.com/ — The Junaid Family Foundation is proud to announce a grant to the Greater Cleveland Food Bank (GCFB) in support of their Nourishing Beginnings program. This initiative is aimed at addressing the dire food insecurity issues that plague pregnant individuals in Cuyahoga County, which have significantly contributed to the county's persistently high infant mortality rates.
For over three decades, Cuyahoga County has grappled with some of the nation's highest infant mortality rates. According to First Year Cleveland, the infant mortality rate (IMR) in 2021 for black babies stood at 12.36, while that of white babies was 5.24. This stark racial disparity reveals that black babies in the County are at risk of death in their first year more than double their white counterparts. A primary risk factor contributing to these grim statistics is food insecurity. This insecurity not only affects infant outcomes but is also linked to overall maternal health.
The Nourishing Beginnings Program launched in collaboration with Case Western Reserve University, Better Health Partnership, and with input from Community Health Workers (CHWs) via Pathways Community HUB, integrates and simplifies referral and food delivery systems to ensure more pregnant individuals have access to nutritious food. The program uses CHWs to offer direct support for unmet social needs and facilitate food delivery through intervention through two different approaches.
The grant from the Junaid Family Foundation will be instrumental in bolstering these efforts, specifically by enhancing the referral and food delivery systems and providing pregnant families with essential tools and resources. Kristen Warzocha, President and CEO of the Greater Cleveland Food Bank, shared, "We are profoundly grateful for the Junaid Family Foundation's generosity. This grant will enable us to expand our reach and make a tangible difference in the lives of vulnerable pregnant individuals in Cuyahoga County, driving positive change in maternal and infant health outcomes."
The Junaid Family Foundation has an established track record supporting programs to improve maternal and infant outcomes through nutrition support. This grant further supports the Junaid Family Foundation's interest in creating a positive impact in this area. "It's our foundation's belief that every individual, especially expectant mothers, should have access to nutritious food and resources that ensure healthy birth outcomes. By supporting the Nourishing Beginnings program, we are building on our other efforts to support maternal care and taking a step closer to bridging the food security gap and making a lasting difference in our community here in Ohio and beyond," shared Ansir Junaid, Chairman and Trustee of the Junaid Family Foundation.
About The Junaid Family Foundation

The Junaid Family Foundation is a US nonprofit dedicated to empowering vulnerable populations, especially women, adolescents, and children to reach new economic and social growth and stability levels to transform generational poverty into future prosperity. To learn more about the Junaid Family Foundation go to www.junaidfamilyfoundation.org.
About the Greater Cleveland Food Bank

The Greater Cleveland Food Bank is the largest hunger relief organization in Northeast Ohio having provided 51 million meals in FY2023 to more than 400,000 hungry people in Cuyahoga, Ashtabula, Geauga, Lake, Ashland and Richland counties. Our mission is working together to ensure that everyone in our communities has the nutritious food they need every day. We do this through both food distribution and SNAP outreach efforts. The Food Bank continues to provide nutritious food to those in need while working to end hunger tomorrow through connecting our neighbors to resources. To learn more about the organization, go to www.GreaterClevelandFoodBank.org
Jackie Sanders
The Junaid Family Foundation
email us here
Originally published at https://www.einpresswire.com/article/664422646/junaid-family-foundation-awards-grant-to-support-the-greater-cleveland-food-bank-nourishing-beginnings-program