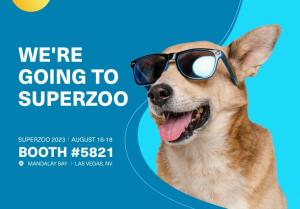 LAS VEGAS, NV, USA, August 15, 2023/EINPresswire.com/ — Neakasa, a global leader in smart home cleaning appliances, is thrilled to announce its participation in the highly anticipated SuperZoo 2023, where the company will proudly showcase its cutting-edge pet cleaning products designed to revolutionize pet grooming and hygiene, including the flagship products – Neakasa P1 & P2 pet grooming vacuum, Neakasa F1 pet grooming dryer, also the upcoming new products- Neakasa P0 series pet grooming vacuum, and Neakasa M1 Smart Cat Litter Box. SuperZoo 2023, North America's largest pet retail event, will occur from August 16-18 in Las Vegas, NV. Neakasa booth #5821 located at the Mandalay Convention Center.
SuperZoo Expo is renowned as one of the largest gatherings in the pet care industry, attracting industry professionals, retailers, and pet enthusiasts from around the globe. This year, Neakasa is set to make a lasting impression by unveiling an impressive array of innovative pet cleaning solutions that will raise the bar for pet grooming convenience and efficiency.
Highlighting Neakasa's lineup of breakthrough products are the highly acclaimed flagship items:
– Neakasa P1 Pro & Neakasa P2 Pro Pet Grooming Vacuum:
The Neakasa P1 Pro and P2 Pro Pet Grooming Kits include vacuum clips and groom pets in one easy-to-use unit. The all-in-one professional grooming kit comprises five grooming tools for cats and dogs. The product addresses grooming problems by eliminating messy pet hair, excessive noise, and cumbersome grooming tools. The advanced P1 and P2 Pro technology helps pet owners brush and vacuum the dirt away, save money, easily remove undercoats, and reduce matting and hotspots for a healthier coat and happier pet. The Neakasa P1 Pro's MSRP is $159.99, and P2 Pro MSRP is $179.99, both available on Amazon and Neakasa.com.
– Neakasa F1 Pet Grooming Dryer:
The Neakasa F1 Pet Grooming Dryer is the newest product in Neakasa's pet care series. The F1 Pet Grooming Dryer features a 76,000rpm high-performance motor that allows a 60m/s strong blowing force that leaves any pet fluffy and dry in just 8 minutes. Its compact hand-held body's net weight is a mere 19.8 oz and operates efficiently in the palm of your hand. Its unbeatable power features a 2-speed setting, 4-heat settings, and up to eight modes to tackle any kind of pet hair, whether they'd be small, medium, or large dogs. Built upon intelligent heat control, Neakasa F1's heating system prevents your pets from catching a cold or experiencing extreme heat. Neakasa F1 has three nozzles, which allow users to dry the dog's coat differently. The Neakasa F1's MSRP is $129 and is available on Amazon and Neakasa.com.
Alongside the flagship products, Neakasa will provide an exclusive preview of their upcoming releases:
– Neakasa P0 Series Pet Grooming Vacuum:
The Neakasa P0 Series Pet Grooming System is the newest product in Neakasa's pet grooming series. There has 2 versions, P0 Lite and P0 Pro.
The P0 Series is acoustically engineered to make grooming more peaceful for your pet. Its advanced noise-canceling technology minimizes sound by incorporating sound-absorbing elements, lengthening the sound path, and using noise-blocking technology, P0 Series' lowest noise is 48 dB (Noise Data obtained via testing performed by Neakasa Labs). It weighs only 4.4 lbs making it effortlessly portable and features an ergonomic built-in handle design for easy carry. The included collecting bin holds over 1L of pet hair perfect for cats. The P0 Series features a 10,000Pa robust suction system that captures 99% of all loose hair and keeps it from spreading around your home.
Neakasa's P0 Lite is a 4-in-1 grooming kit that features a de-shedding brush, hair remover roller, grooming brush, and a nozzle to pick up pet hair from your couch or clothes. Its MSRP is $109 and will be available on Amazon and Neakasa.com starting in Q3.
Neakasa's P0 Pro is a 5-in-1 grooming kit that features five clipping combs, electric clippers, a de-shedding brush, a hair remover roller, a grooming brush, and a nozzle to pick up pet hair from your couch or clothes. Its MSRP is $139 and will be available on Amazon and Neakasa.com starting in Q3.
– Neakasa M1 Smart Cat Litter Box:
The Neakasa M1 Self-Cleaning Cat Litter is the newest product in Neakasa's pet Cleaning series. It maximizes comfort for cats of all sizes and features advanced litter-sifting technology, real-time monitoring of waste, litter levels, and cat's health through the Neakasa app. In addition, the open-style litter box design includes an advanced odor control feature while ensuring hands-free cleaning for 2 weeks thanks to a 4L capacity trash box. The open-top style allows your pet effortlessly in and out while making for an anti-pinch design and smooth transition, along with easy setup and maintenance, and effortlessly pour litter from above. Large cats will also enjoy this innovative solution that provides easier access and a more natural environment. The Neakasa app notifies owners when the waste drawer is full and time for a refill, as well as tracks your cat's litter box habits. The M1 is perfect for homes with multiple cats and is compatible with all types of litter so you don't have to change your pet's habits. Neakasa M1 offers 4 intelligent modes for cat owners to effortlessly solve all their cleaning problems. This is the first showcase of Neakasa's M1 Cat Litter Box on SuperZoo, it will be pre-head in early September and have an official launch in mid-October in Indiegogo and Muakake.
"We are excited to participate in this year's SuperZoo Expo and showcase our latest pet cleaning solutions," said Neakasa Co-Founder Minming Gu " At Neakasa, we are committed to elevating the pet grooming experience for both pets and their owners. Our products are designed with a focus on efficiency, convenience, and the well-being of our furry friends. We can't wait for attendees to experience firsthand the advancements we've made in pet care technology.
Throughout the expo, attendees will have the opportunity to witness live demonstrations of Neakasa's products, engage with the team of experts, and learn more about the company's commitment to sustainable and pet-friendly design.
Visit Neakasa at Booth #5821 during the SuperZoo 2023, and be among the first to experience the future of pet grooming and cleaning. Media interested in reviewing this product or speaking to a Neakasa pr representative, please reach out to Zoe Zhuang at [email protected]. Media samples are limited. For more information about Neakasa and its innovative products, please visit www.Neakasa.com.
About Neakasa
Neakasa, formerly known as "Neabot", was established in 2017 as a leading innovator of smart cleaning technology under Genhigh. The company's mission is to simplify and elevate people's lives by providing top-of-the-line smart cleaning solutions. The current lines include Pet Cleaning, Floor Cleaning, and Personal Care/Cleaning products. The professional team comes from a number of the world's most respected brands, including Microsoft, Honeywell, Motorola, Foxconn, Huawei, and more. Neakasa's mission is to provide every household with a better home cleaning experience. Please visit www.neakasa.com for the latest news.
Neakasa Official
GENHIGH TECH CO., LIMITED
[email protected]
Visit us on social media:
Facebook
Instagram
YouTube
TikTok


Originally published at https://www.einpresswire.com/article/649959187/neakasa-to-exhibit-groundbreaking-pet-cleaning-products-at-the-superzoo-2023