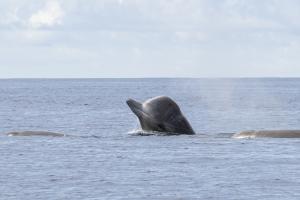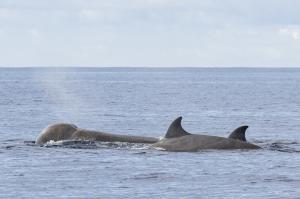 Northern Bottlenose Whales by Francisco Garcia, Wildlife Photographer at TERRA AZUL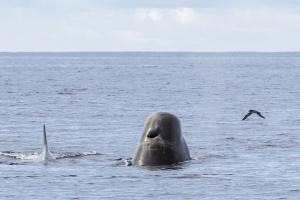 Northern Bottlenose Whales by Francisco Garcia, Wildlife Photographer at TERRA AZUL
TERRA AZUL, a leading whale watching company in Portugal, announced rare sighting of Northern Bottlenose Whales near Vila Franca do Campo, Azores Islands.
We're thrilled for the opportunity to observe these amazing creatures and further our understanding about the species. These are testament to the marine ecosystem diversity in the Azores archipelago."
— Sanne Bakkers, MSc in Marine Mammal Science and Main Guide at TERRA AZUL
VILA FRANCA DO CAMPO, AZORES ISLANDS, PORTUGAL, July 30, 2023/EINPresswire.com/ — TERRA AZUL, a leading whale watching company in Portugal, is excited to announce a recent rare sighting of several Northern Bottlenose Whales near Vila Franca do Campo – in the beautiful Azores Islands. This exceptional encounter has dazzled locals and visitors alike, as well as the scientific community. Although it is known that Northern Bottlenose Whales appear to visit the Azores archipelago every year for unknown reasons, these majestic creatures are very rarely spotted.
Northern Bottlenose Whales (Hyperoodon ampullatus) possess distinctive specificities that contribute to their elusiveness in the wild and consequent exceptional rarity of their sightings. These enigmatic marine mammals are known for their deep-diving tendencies and preference for deep offshore waters, far from coastal regions in remote and secluded locations. These characteristics present a formidable challenge for researchers and wildlife enthusiasts alike, contributing to the sense of awe and excitement surrounding each rare sighting of these magnificent wild animals in their natural habitat.
Sanne Bakkers, MSc in Marine Mammal Science and Main Guide at TERRA AZUL, said that "the company is working with the international scientific community to see how the collected data can help in finding out more about the species' population connectivity in the North Atlantic, as part of our commitment to protect these whales and their habitat, and ensure they have a safe and healthy environment for generations to come."
Harry Eckman, CEO at World Cetacean Alliance commented: "To have these wonderful sightings of such rare species is what makes the Azores such a magnificent marine environment. It's encounters like this that demonstrate why it is so deserving of the Whale Heritage Area designation and shows why it's so important to protect the oceans, so that species like the Northern Bottlenose Whale can thrive."
These recent sightings of Northern Bottlenose Whales near the crystalline waters of Vila Franca do Campo in the island of São Miguel are a very positive sign. However, it is important to remember that these whales are at risk, and we need to continue to work to protect their habitat and reduce the threats they face. These whales are currently listed as "Near Threatened" on the IUCN Red List of Threatened Species, and apart from depletion due to historical whaling, Northern Bottlenose Whales are affected by various human pressures, such as noise pollution, bycatch in fisheries and plastic pollution.
About Northern Bottlenose Whales:

Northern Bottlenose Whales have unique, elongated bodies that can reach up to 10 meters long (32 feet) and weigh up to 7.5 metric tons (16,530 lbs). They are the largest of the beaked whales found in the North Atlantic Ocean, and can be recognized by their highly distinctive bulging foreheads and small stubby beaks. They are specialists in deep diving, attaining depths of as much as 2.3 Kilometers during foraging dives. Find more info at www.iucnredlist.org/species/10707/50357742.
About Azores Whale Watching & Wildlife Tours TERRA AZUL:

TERRA AZUL is a marine eco-tour operator since 2001, specialized in Whale Watching and Wildlife Tours, operating daily at the Marina of Vila Franca do Campo, São Miguel – Azores Islands, in Portugal. Based on Scientific Education, Research Contribution, and Environmental Conservation, all tours are guided by Marine Biologists or Naturalists, where Field Imagery and Data is collected to contribute towards local and international wildlife research & conservation projects for Cetaceans, Sea Turtles and Birds, and visitors are welcome to participate. With deep rooting to local culture, TERRA AZUL applies the authentic Azorean techniques used for Whaling until 1984, now to the service of culture and education in leisure, and for an even better chance to observe marine Wildlife. Find out more at www.azoreswhalewatch.com.
About World Cetacean Alliance (WCA):

The World Cetacean Alliance is the world's largest marine conservation partnership. Their mission is to protect whales, dolphins and porpoises through a connected community of people with the expertise, capacity, and resources to act as the voice for cetaceans and their habitats locally, nationally, and internationally. WCA Partners include responsible whale and dolphin watching tour operators, NGOs, scientists, and educators. Find out more at www.worldcetaceanalliance.org.
About Whales and Marine Wildlife in Azores Islands:

In the heart of the Atlantic Ocean, 3 to 5 hours away from the EU and US, the Azores Islands in Portugal are a unique destination to observe Marine Wildlife. With 4 resident Cetacean species (including Sperm Whales), and from March up to 24 species more, including Blue Whales, Fin Whales, Sei Whales, and many Dolphins, adding up to a third of all known species. Chances to observe Cetaceans are incredible – with 98% spotting chance for Cetaceans and on average 3 different species per tour. Adding to this, marine biodiversity is widely abundant, and it is possible to observe a wide variety of Fish, Sea Turtles, and Birds. More info at www.azoreswhalewatch.com.
Filipe Sousa
Azores Whale Watching & Wildlife Tours TERRA AZUL
[email protected]
Visit us on social media:
Facebook
Twitter
LinkedIn
Instagram
YouTube
Other
Azores Whale Watching TERRA AZUL


Originally published at https://www.einpresswire.com/article/647056079/rare-sighting-of-northern-bottlenose-whales-in-azores-islands