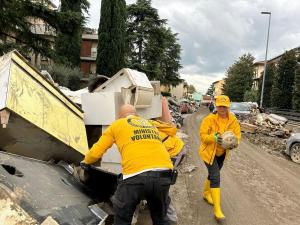 The Scientology Volunteer Ministers (VMs) recently organized a cleanup operation in Rome and another of their teams provided flood relief in Florence.
ROME, ROME, ITALY, November 15, 2023 /EINPresswire.com/ — Scientologists in Italy often participate in helping their communities during local disasters, by joining their Volunteer Ministers program.
The Scientology Volunteer Ministers Program was launched over 30 years ago by L. Ron Hubbard, founder of Scientology, as a way to help people suffering from disasters and injustice. As Hubbard said, "If one does not like the crime, cruelty, injustice and violence of this society, he can do something about it."(1)
A recent example; the yellow-shirted VMs met at the Via Boccea junction near Rome's Grande Raccordo Anulare ring road to collect trash and improve landscaping. In total, the Roman group collected 6 bags of garbage and 150 glass bottles, finding waste paper, cans, plastic, dry leaves and more along the roadsides. Additionally, another team of VMs in Rome, organized a cleanup along the Via Boccea to improve their home city. They collected trash and cleared landscaping debris from the roadsides near the highway. (2)
Another recent example: In early November, as reported in FirenzeToday, severe storms caused major flooding in Florence and surrounding areas. VMs travelled to the province of Florence to assist with clearing debris. In the municipality of Campi Bisenzio near Florence, the VMs worked to remove obstructions so other rescue vehicles could access the flooded areas. Under the coordination of the Campi Bisenzio Town Council, the VMs made three trips to dump over 30 cubic meters of rubble they collected from flooded homes and streets in Campi Bisenzio (3). Local Florentine residents even offered room discounts and free breakfast to the VMs in appreciation.
The VMs plan to continue relief efforts in Tuscany in the coming days, while also conducting local community service projects in other Italian cities. As Hubbard wrote, "A Volunteer Minister does not shut his eyes to the pain, evil and injustice of existence. Rather, he is trained to handle these things and help others achieve relief from them and new personal strength as well. How does a Volunteer Minister accomplish these miracles? Basically, he uses the technology of Scientology to change conditions for the better—for himself, his family, his groups, friends, associates and for mankind." (4)
"Italian Scientologists are always very eager to help civilize society by promoting awareness, kindness, freedom from suffering, trust, decency, honesty and tolerance," said Scientology representative to the EU Ivan Arjona. "Their initiatives will continue in the coming weekends around Italy".
References:
(1) https://www.scientology-losangeles.org/news/humanitarian-activities/scientology-volunteer-ministers-help-the-local-community-with-a-food-drive-0d5f4e
(2) https://www.romatoday.it/zone/aurelio/boccea/interventi-di-cura-per-l-ambiente-nella-capitale.html
(3) https://www.firenzetoday.it/cronaca/rifiuti-campi-bisenzio.html
(4) https://www.volunteerministers.org/newsletter/2016-06-40-years-scientology-volunteer-minister-help.html
Scientology Europe
European Office for Public Affairs and Human Rights
+ +32 2 533 28 00
email us here
Visit us on social media:
Facebook
Twitter
LinkedIn
Instagram
YouTube


Originally published at https://www.einpresswire.com/article/668790334/helping-neighbors-near-and-far-scientology-volunteer-ministers-aid-florence-flood-victims-and-clean-up-rome