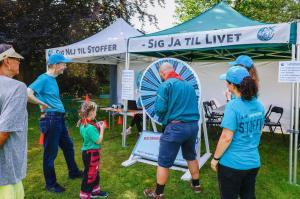 Scientology helps fight Denmark's teen opioid crisis by educating youth about addiction at the Copenhagen Health Fair.
COPENHAGEN, COPENHAGEN, DENMARK, August 30, 2023/EINPresswire.com/ — A contingent of deeply concerned Scientology volunteers with the Copenhagen chapter of the Foundation for a Drug-Free World recently brought their urgent "Say No to Drugs" initiative to a major community health fair in the city.
While there is one International Overdose Awareness Day which is celebrated every year, Scientologists don't take it mild, execute preventive actions all year round. But how did the International Overdose Awareness Day come about? International Overdose Awareness Day takes place annually on August 31st with the aim of raising awareness about overdoses and combating the stigma surrounding drug-related deaths. This meaningful event was initiated in 2001 by Sally J. Finn in Melbourne, Australia. following the loss of her son, James to a heroin overdose. The inaugural International Overdose Awareness Day event in Melbourne attracted 150 participants and marked the beginning of a global movement. By 2002 events were being held in the UK and Europe while the US joined in by 2004. Over time, International Overdose Awareness Day expanded to more than 40 countries and gained official government recognition and support.
The primary objective of this awareness day is to combat the stigmatization associated with overdose deaths and educate individuals, about the risks involved not just in overdosing but in taking drugs per se, and discussions centred around evidence-based overdose prevention strategies and drug policies. Activities organized as part of this initiative include candlelight vigils, policy debates naloxone training sessions (a medication used to reverse overdoses) memorial services and various community gatherings.
But for the Scientologists, this is a daily battle that they started even before 1966 when they established the first drug rehabilitation centre known as Naronon, which has expanded to dozens of centres worldwide, in addition to the global prevention campaign.
The outreach covered in this story aims to actively spread awareness and provide solutions to the country's youth as substance abuse has emerged as an escalating epidemic and one of Denmark's most dire threats.
The volunteers invited families and youth attendees at the packed fair to spin a "roulette wheel" game in order to raise charitable donations benefiting the non-profit sponsoring the event. However, they also creatively utilized the gripping activity to vividly demonstrate how taking drugs equates to recklessly gambling with your life given the myriad harmful and even deadly effects of various illicit substances.
The interactive demonstration specifically targets young students before they ever begin to experiment with recreational drug use that could permanently destroy their futures.
According to concerning reports widely covered in Danish local media recently, dependency and outright addiction to opioid-based pills has become highly prevalent among the country's teenagers and children as young as 14 years old. Numerous young students have confessed that they feel completely unable to even function, get out of bed, or attend school without the aid of opioids just to start their day.
The rampant addiction crisis has spread like wildfire among expansive social networks where youth openly acknowledge that virtually everyone has easy, unrestricted access to the dangerous pills that fuel crippling addiction. Experts state that the proliferation of teenage opioid abuse may represent one of the most critical threats facing Denmark's future stability, prosperity, and health.
Alarmed by the unprecedented scope and growth of the drug crisis, Scientology volunteers are working actively to reach young people nationwide with factual data and knowledge about the immense risks posed by the most commonly abused narcotics before permanent and irreparable addictive behaviours take hold.
The Foundation for a Drug-Free World provides comprehensive drug education and prevention materials in 20 languages completely free of charge, including extensive online courses and booklets. The global non-profit boasts a network of over 200 chapters across dozens of countries worldwide, thanks to the staunch support of the Church of Scientology and its legions of committed volunteers.
Scientology founder L. Ron Hubbard identified recreational drug abuse as one of the single most corrosive elements present in modern culture that actively works to unravel the social fabric of families, communities and entire nations. "Drug addiction and substance abuse fuel criminality while destroying lives and squandering human potential on a staggering scale globally," said Ivan Arjona-Pelado, the President of the European Office of the Church of Scientology for Public Affairs.
"This is why the actions of the Foundation for a Drug-Free Europe and its hundreds of Say No To Drugs associations and groups of volunteers across Europe, aware that every year drugs destroy thousands of lives and hopes, are actively contributing through The Truth About Drugs campaign, to preventively educate the youth and the public at large with factual data on the harming effects of drug use" wrote said in a recent article Christian Mirre, Spokesperson of the Foundation for a Drug-Free Europe.
The Church of Scientology for Denmark, which opened its sprawling new ideal facilities in 2017, is deeply committed to sponsoring and vigorously promoting the volunteer outreach effort to combat drug addiction locally.
Countless Danish families have been torn apart by substance abuse and so Scientology volunteers aim to foster a drug-free generation by tackling the issue at its roots.
Scientology Network programming showcases the extensive work of Foundation volunteers using these drug prevention materials (known as The Truth about Drugs") in schools and communities across various nations globally. The broadcast platform aims to satisfy curiosity about the true nature and beliefs of the Scientology religion, as well as share its staunchly humanitarian teachings focused on protecting human life, upholding human rights, and human dignity, and uplifting families and communities.
The mobilization of Scientologist volunteers at the Copenhagen health fair represents the latest action of the worldwide movement. For decades, the Church has made eradicating drug addiction and illiteracy the twin pillars of its social betterment campaigns. In communities beset by substance abuse worldwide, Scientologist volunteers are working to provide facts, education and practical solutions together with members of different religions such as Christians, Buddhists, Hindus, Sijs, Muslims and others
Scientology Europe
European Office for Public Affairs and Human Rights
+32 2 533 28 00
email us here
Visit us on social media:
Facebook
Twitter
LinkedIn
Instagram
YouTube


Originally published at https://www.einpresswire.com/article/652895232/scientology-volunteers-at-health-fair-in-denmark-do-their-part-before-international-overdose-awareness-day