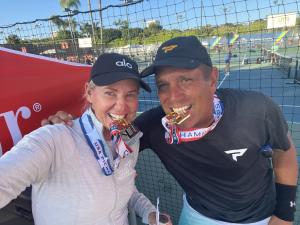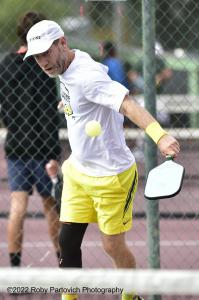 NPL Player and World #2 Scott Crandall in action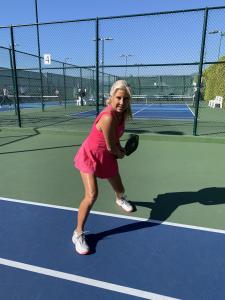 NPL Player and World #3 Ranked Champions Pro Anna Shirley lines up a backhand drive
NPL Pickleball (www.nplpickleball.com), the only professional pickleball league for Champions Pros (Age 50+), announce new partnership with Skyblue Pickleball
SAN ANTONIO, TEXAS, UNITED STATES, September 15, 2023/EINPresswire.com/ — The National Pickleball League, LLC (NPL Pickleball), the first and only professional pickleball league for Champions Pros (Age 50+), is thrilled to announce an exciting new partnership with Skyblue Pickleball for the league's inaugural season. This association designates Skyblue Pickleball as the "Official Team Uniform Provider" for NPL Pickleball, serving all six professional teams, and lays the groundwork for a potential multi-season collaboration.
Beth Bellamy, co-founder of NPL Pickleball and the celebrated #1 rated Champions/Sr Pro women's player worldwide, stated, "Aligning with Skyblue Pickleball demonstrates our unyielding dedication to excellence. Their refined designs, combined with our elite athletes, set the stage for an unforgettable season."
The meticulously designed uniforms capture the essence of each team, blending style and comfort in perfect harmony. Petra Michael, Co-founder of Skyblue Pickleball, commented, "Designing these uniforms was an intricate process. Every element was chosen to reflect each team's unique character, guaranteeing our athletes look and feel their best."
Furthermore, Skyblue Pickleball will helm the "Official NPL Merchandise" portal www.nplpickleball.store, providing fans a unique platform to express their allegiance to their favorite teams. Shawn Berry, Co-Founder of Skyblue Pickleball, reflected on the larger vision, "The NPL's innovative team-centric format introduces a fresh chapter of excitement for our global audience, players, and fans alike. We're thrilled to be at the heart of this transformation."
Skyblue's uniforms stand out for their blend of contemporary aesthetics with advanced performance materials, including anti-moisture wicking and quick-dry fabrics.
With their inaugural season well under way, NPL Pickleball will hold its regular season finale in San Antonio, Texas on September 15-17, while the season-ending Championships are earmarked for October 13-15 in Glendale, Arizona. Each of the league's 2023 events is being held at a different Chicken N Pickle facility around the country, where all six teams are competing for the title and $100,000 in prize money.
About Skyblue Pickleball:
Skyblue Pickleball, spearheaded by Petra Michael and Shawn Berry, has carved a niche in the pickleball arena. Their unwavering commitment to quality and groundbreaking innovations sets them apart as leaders in the field. For further details or media inquiries, please contact:
Skyblue Pickleball
Phone: (702) 751-5898
Email: [email protected]
About NPL Pickleball:
NPL Pickleball is a nationwide team competition for Champions Division (50+) professional pickleball players, featuring the best pro players from around the world. Founded in 2022 and led by Champions Pro players Rick Witsken, Beth Bellamy and Michael "Hammer Mike" Chen, NPL Pickleball's inaugural season is in full swing, with regular season league matches taking place from June to September, and culminating in a season-ending playoff weekend in Glendale Arizona from October 13-15, 2023 where the Championship title and $100,000 in prize money will be on the line. All events are being held at Chicken N Pickle's state-of-the-art indoor facilities across the country. For more information on NPL Pickleball, visit www.nplpickleball.com.
To purchase official NPL merchandise, visit www.nplpickleball.store.
Julie Weston
National PIckleball League, LLC
+1 513-349-5857
email us here
Visit us on social media:
Facebook
Twitter
LinkedIn
Instagram
YouTube
NPL Mid Season Recap Show


Originally published at https://www.einpresswire.com/article/655648268/skyblue-announced-as-official-leaguewide-team-uniform-and-merchandise-designer-for-national-pickleball-league