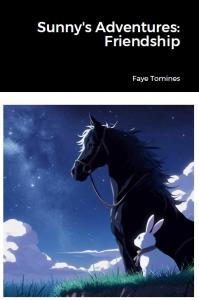 Book cover of Sunny's Adventures: Friendship
Logo of eklypse media LLC
Sunny's Adventures: A Delightful Children's Book Series Teaching Valuable Life Lessons
Writing for children is a responsibility I hold dear, as it gives me the opportunity to impact young minds, fostering a love for reading and instilling values that will stay with them as they grow."
— Faye Tomines
USA, November 15, 2023 /EINPresswire.com/ — Faye Tomines, a children's book author and business owner, is delighted to announce the release of two captivating books in her "Sunny's Adventures" series: "The Meadow" and "Friendship". These beautifully illustrated books are designed to engage and educate young readers on important life lessons.
"Sunny's Adventures: The Meadow" invites children to join Sunny and his forest friends in learning about sustainability. Through kid-friendly language and charming illustrations, the book emphasizes the significance of small acts of conservation and care for the planet. The story of teamwork among meadow animals in their quest to be eco-friendly will inspire young minds to appreciate and contribute to environmental stewardship.
"Sunny's Adventures: Friendship" introduces Sunny, a radiant black stallion, and Ruby, a shy rabbit, whose story unfolds in a vibrant meadow. This heartwarming tale teaches the essence of friendship—kindness, understanding, respect, and the joy of sharing. It is a timeless reminder that true friendship blossoms with an open heart.
Both books are essential for kids, fostering a love for nature, the importance of relationships, and the values shaping young minds. Faye Tomines' commitment to crafting educational and enjoyable stories makes the "Sunny's Adventures" series a must-have for parents, teachers, and children alike.
The books are available for purchase at https://www.lulu.com/search?contributor=Faye+Tomines
For more information, or to arrange a book reading event, please reach out to eklypse media LLC.
Faye Tomines
eklypse media LLC
[email protected]
Visit us on social media:
Facebook
LinkedIn
Other
Originally published at https://www.einpresswire.com/article/668852303/sunny-s-adventures-series-enchanting-children-s-books-on-sustainability-and-friendship