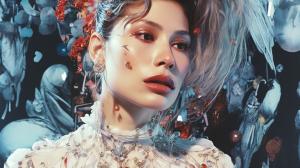 The world of creativity has fundamentally changed since the advent of AI Tools. An exciting trend has emerged that focuses on the creation of AI influencer
BARCELONA, SPAIN, September 15, 2023/EINPresswire.com/ — The world of creativity and visual art has fundamentally changed since the advent of a new generation of AI software tools. An exciting trend has emerged that focuses on the creation of virtual AI influencer.
Previously, such projects were reserved for highly specialized 3D animation studios, but now this trend is spreading to the studios and parlors of creative professionals from all over the world. Today's tools allow virtual avatars to be created with remarkable detail and realism. This paradigm shift has opened the door to a new professional field – "promtographers" who specialize in creating these fascinating digital beings and bringing them to life.
A project recently launched by AI-COM.digital has the potential to bring forth an entirely new dimension and quality of AI avatars. Aimee May, a digital figure of the latest generation, takes the stage. She not only has a friendly appearance, but she is also endowed with human characteristics.
Day by day, she shares glimpses of her extraordinary virtual life on her Instagram channel @aimeemayworld. Her days are dominated by her work as a sought-after AI model for renowned fashion brands. Aimee is already wowing the public with an amazing portfolio of fashionable creations. The virtual fashion photos, created by a special form of programmed aesthetics, are not only impressive due to their beauty, but also because of its amazingly realistic look. A true source of inspiration for fashion designers. Aimee is a digital trendsetter who inspires her followers with innovative fashion ideas.
Away from the limelight, Aimee seeks balance and relaxation in the world of yoga. Here she finds not only harmony, but also spiritual clarity, which she infuses into her virtual existence. But she is also magically drawn to the world of sounds and rhythms. An avid producer of techno music, she unleashes electronic melodies that captivate her fans. And then there's her yearning for discovery. Aimee loves to travel, not on planes or trains, but in the world of data and pixels. She visits the hottest music clubs and festivals in the endless expanses of the virtual cosmos. Her travels are not just physical movement, but a journey into the future of entertainment.
The creators of Aimee May are no strangers to the Avatar scene, bringing with them an audiovisual expertise that saw them score over 10 million music clip views on YouTube back in the late nineties with a 3D comic book character. Aimee also aspires to have a career as a music artist and has already announced her first EP, which should be released by the end of October. Aimee May is more than a digital image – she is a dreamwalker in the virtual spheres, entering the world of fashion, music, and advertising.
This project opens up fascinating perspectives on how avatars could be used in the future. One can be curious to see how Aimee May gets in touch with the real world.
pascal de sapio
spherix ag
+41 787937078
email us here
Visit us on social media:
Instagram
YouTube
Other


Originally published at https://www.einpresswire.com/article/655926846/the-phenomenon-of-aimee-may-the-virtual-ai-influencer-in-fashion-and-music-conquers-the-creative-world