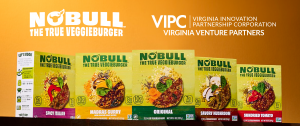 Company fills a niche in the meat-alternative space and looks to expand into retailers nationwide
This Virginia startup has taken a family recipe and turned it into a product with nationwide distribution."
— Alex Euler, VIPC Senior Investment Director of Virginia Venture Partners
RICHMOND, VIRGNIA, UNITED STATES, October 26, 2023 /EINPresswire.com/ — The Virginia Innovation Partnership Corporation (VIPC) today announced that Virginia Venture Partners (VVP), its equity investment program, has invested in NoBull Burger. Charlottesville, Va.-based NoBull Burger takes real, quality ingredients and turns them into great-tasting, meat-free burgers that don't compromise on nutrition.
There are many meat-alternative options on grocery store shelves as the market globally shifts away from eating meat, yet consumers still crave an option for nutritious, protein-packed burgers that taste great. Enter: NoBull. NoBull Burger uses quality ingredients to craft 100% plant-based burgers that are vegan, gluten-free, non-GMO verified, kosher-certified, and most of all, delicious.
"The idea of NoBull Burger emerged from my need for a healthy option to feed my children that they would enjoy," said Crissanne Raymond, President and Co-founder of NoBull Burger. "The recipe was a hit, tasting better than anything on the market. It was so good that my family and friends convinced me to start selling to local farmers' markets, restaurants, and grocery stores across the Mid-Atlantic. Now we're reaching customers across the country in major retailers. With the support of VVP, we're on track to propel growth in sales, marketing, and manufacturing, beyond what we imagined, and we couldn't be more grateful for supportive network that we've been brought into through VIPC."
"NoBull Burger gives consumers a product that they want and that isn't available with other meat-alternative products," says Alex Euler, VIPC Senior Investment Director of Virginia Venture Partners. "This Virginia startup has taken a family recipe and turned it into a product with nationwide distribution. NoBull Burger is poised for continued expansion as the market surges, and we're excited to celebrate their success."
NoBull Burger can be found at retailers including Whole Foods Market, Mother's Market & Kitchen, MOM's Organic Market, Natural Grocers, Erewhon, Wakefern and more.
VIPC's investment in NoBull Burger draws upon funds made available through the U.S. Treasury Department State Small Business Credit Initiative (SSBCI) Program.
About NoBull Burger
NoBull Burger is the TRUE veggie burger and takes pride in using real-food, quality ingredients to make an exceptionally tasting plant-based, protein source made from 100% plants and 0% bull. Not meant to be a meat imitator, but whole-food, REAL food plant-protein that delivers not only on nutrition, but most of all flavor! Founded by a mom and daughter team in Charlottesville, VA in 2011, NoBull Burger is now sold in grocery stores and restaurants across the nation. For more information, visit www.nobullburger.com.
About Virginia Innovation Partnership Corporation (VIPC)
VIPC: Connecting innovators with opportunities. As the nonprofit operations arm of the Virginia Innovation Partnership Authority (VIPA), VIPC is the commercialization and seed stage economic development driver in the Commonwealth that leads funding, infrastructure, and policy initiatives to support Virginia's innovators, entrepreneurs, startups, and market development strategies. VIPC collaborates with local, regional, state, and federal partners to support the expansion and diversification of Virginia's economy.
Programs include: Virginia Venture Partners (VVP) | VVP Fund of Funds (SSBCI) | Virginia Founders Fund (VFF) | Commonwealth Commercialization Fund (CCF) | Petersburg Founders Fund (PFF) | Smart Communities | The Virginia Smart Community Testbed | The Virginia Unmanned Systems Center | Virginia Advanced Air Mobility Alliance (VAAMA) | The Public Safety Innovation Center | Entrepreneurial Ecosystems | Regional Innovation Fund (RIF) | Federal Funding Assistance Program (FFAP) for SBIR & STTR | University Partnerships | Startup Company Mentoring & Engagement. For more information, please visit www.VirginiaIPC.org. Follow VIPC on Facebook, X (formerly Twitter), and LinkedIn.
About Virginia Venture Partners (VVP)
Virginia Venture Partners is the equity investment program of VIPC that makes seed-stage equity investments in Virginia-based technology, clean energy, and life science companies with a high potential for achieving rapid growth and generating a significant economic return for entrepreneurs, co-investors, and the Commonwealth of Virginia. Since its inception in 2005, Virginia Venture Partners has deployed $51.7 million in capital across more than 305 portfolio companies, including 17 companies in designated Opportunity Zones. Virginia Venture Partners' investment decisions are guided by the Virginia Venture Partners Investment Advisory Board (IAB). This independent, third-party panel has drawn from the expertise of leading regional entrepreneurs, angel, and strategic investors, and venture capital firms such as New Enterprise Associates, Grotech Ventures, Harbert Venture Partners HIG Ventures, Edison Ventures, In-Q-Tel, Intersouth Partners, SJF Ventures, Carilion Health Systems, Johnson & Johnson, General Electric, and Alpha Natural Resources. For more information, please visit the VVP pages from www.VirginiaIPC.org.
Angela Costello, Vice President of Communications
Virginia Innovation Partnership Corporation (VIPC)
[email protected]
Visit us on social media:
Facebook
Twitter
LinkedIn


Originally published at https://www.einpresswire.com/article/663896141/vipc-s-virginia-venture-partners-invests-in-nobull-burger-to-propel-market-growth-and-expansion