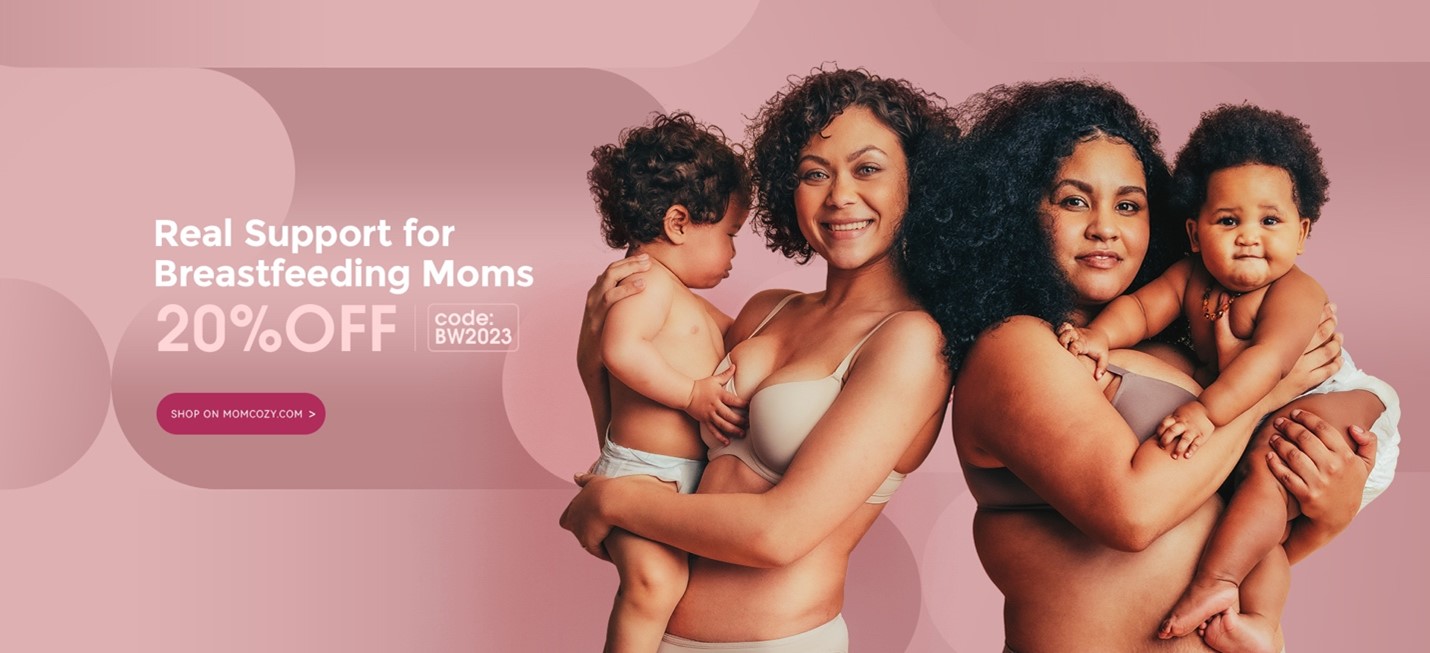 NEW YORK, July 27, 2023 (GLOBE NEWSWIRE) — As the globe readies itself for World Breastfeeding Week, Momcozy, beloved companion brand for over 2 million moms worldwide, is aligning itself with this year's celebration theme: Real Support for Breastfeeding Moms. As a one-stop maternity solution and service, Momcozy is proud to announce its 20% sitewide sale, along with a 30% discount on maternity bras, over the duration of the week's celebration. Moms can enjoy the discounts with code "BW2023" on Momcozy's website from August 1st-7th.
Committed to helping every mom become a "cozy mom," this week-long sale pledges its real breastfeeding support through reliable, practical, and cozy products:
Hands-Free Breast Pumps
Pumping moms can take advantage of discounts on Momcozy's line of hands-free wearable breast pumps, including the all-in-one M5, high-efficiency S12 Pro and long-lasting S9 Pro. These pumps ensure not only comfort and efficiency in milk expression, but also the freedom to multitask– an ideal asset for breastfeeding moms.
Nursing & Pumping Bras
Moms can also enjoy a 30% discount on nursing bra orders over $74 (cannot be combined with 20% sitewide discount). Its bras, including the Seamless Ultra Soft Nursing Bra, Seamless Floral Push-Up Nursing Bra, and 4-in-1 Hands Free Heavy Duty Pumping Bra, all bring breastfeeding moms the best in buttery-soft comfort, support and convenience.
Other Essentials
The discounts extend to other parenting essentials, including Momcozy's top-rated Video Baby Monitor, Retractable Baby Gate, 6-in-1 Fast Baby Bottle Warmer, and an assortment of diapers among a wide range of products.
"At Momcozy, we believe that mothers are the family backbone, deserving nothing less than the best," said a Momcozy representative. "We're proud to support breastfeeding mothers globally and look forward to our products playing a role in their journey during this World Breastfeeding Week."
Visit Momcozy's website this World Breastfeeding Week to join in the celebration of breastfeeding, and to take the next step towards becoming a cozy mom!
About Momcozy
Momcozy strives to be a companion for moms from pregnancy through the early stages of motherhood. With its breast pumps, nursing bras and other mom care products, Momcozy brings the very best in comfort to moms everywhere. With continuous innovation and mother involvement, Momcozy has created products dedicated to making moms' lives easier and more comfortable.
A photo is available at https://www.globenewswire.com/NewsRoom/AttachmentNg/0373f057-efa8-46e6-85c4-ffe33ab4e4be

Contact: Tim Brown [email protected]

Originally published at https://www.einpresswire.com/article/646677845/step-into-savings-momcozy-s-world-breastfeeding-week-sale-starts-august-1st