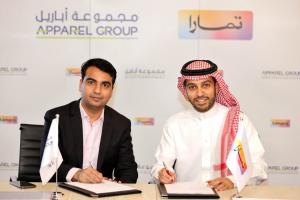 RIYADH, RIYADH, SAUDI ARABIA, July 31, 2023/EINPresswire.com/ — This partnership between Apparel Group and Tamara marks an important milestone in the retail industry, as it signifies a progressive shift towards empowering customers with greater financial flexibility and ease. Through this partnership, Apparel Group aims to revolutionize the shopping landscape in KSA, providing shoppers with an enhanced purchasing experience while ensuring their financial well-being.
With the integration of Tamara into Apparel Group brand's payment system, customers will now have the opportunity to split their payments into three convenient installments. A seamless transaction process will allow them to initiate payments at the cash counter, then fulfill the second and third installments one and two months later, respectively. This innovative approach will be implemented across all Apparel Group brands stores in the Kingdom.
"We are thrilled to partner with Tamara, a recognized leader in the buy now, pay later space. Our partnership with Tamara signifies a pivotal step in our journey toward transforming the retail experience for our customers in the Kingdom of Saudi Arabia. The integration of Tamara's buy now, pay later service aligns with our commitment to bring convenience, flexibility, and the highest level of customer satisfaction," said Neeraj Teckchandani, CEO of Apparel Group KSA. "We are excited about this new chapter and confident that our customers will appreciate the added value this collaboration with Tamara brings to their shopping experience."
Ensuring a smooth and hassle-free payment process, all transactions will be managed directly through the Tamara app, available on both iOS and Android platforms, or via Tamara's website. No cash transactions will be conducted in stores, providing customers with a secure and easy digital payment method.
This partnership reinforces Apparel Group's commitment to leveraging technology in providing a seamless customer experience. As the retail industry continues to evolve, Apparel Group is at the forefront, embracing innovation to redefine the retail landscape in the Kingdom of Saudi Arabia.
KSA: Apparel Group, one of the leading fashion and retail conglomerate in the region, is proud to announce its groundbreaking partnership with Tamara, leading shopping and payments platform in Saudi Arabia and the GCC region, with a mission to empower people in their daily lives and revolutionize how they shop, pay and bank. On 12th June, both entities held a momentous signature ceremony that is set to kickstart a revolution in customer shopping experiences across Apparel Group brands in KSA.
About Apparel Group LLC
Apparel Group is a global fashion and lifestyle retail conglomerate residing at the crossroads of the modern economy – Dubai, United Arab Emirates. Today, Apparel Group caters to thousands of eager shoppers through its 2025+ retail stores and 80+ brands on all platforms while employing over 20,000+ multicultural staff.
Apparel Group has carved its strong presence in the GCC and expanded thriving gateways to market in India, South Africa, Singapore, Indonesia, Thailand, Malaysia, Pakistan, and Egypt. Additionally, clear strategies are in place to enter emerging markets such as Hungary and Philippines.
Apparel Group has created an omni-channel experience, operating brands originating from the USA, Canada, Europe, Australia, and Asia. The brands include leading names in fashion, footwear, and lifestyles such as Tommy Hilfiger, Charles & Keith, Skechers, Aldo, Nine West, Aeropostale, Jamie's Italian, Tim Hortons, Cold Stone Creamery, Inglot, and Rituals.
Apparel Group owes its amazing growth to the vision and guidance of its dynamic Founder and Chairwoman, Mrs. Sima Ganwani Ved, who has taken the company from strength to strength since its inception in the last two decades.
Originally published at https://www.einpresswire.com/article/647182285/apparel-group-strengthens-its-range-of-payment-options-through-a-strategic-partnership-with-tamara