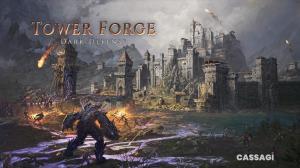 After working on well-known worldwide games like Scorn, Dead Island 2, and Hell Let Loose, Cassagi is ready to share a brand new PC game
KOšICE, SLOVAKIA, August 11, 2023/EINPresswire.com/ — Cassagi is excited to announce their new title, Tower Forge: Dark Defense, coming to Windows PC via Steam in Q2 2024. The studio has shared a new announcement trailer to celebrate the news.
Tower Forge: Dark Defense is a medieval dark fantasy RTS tower defense PC game that offers high-quality visuals and deep gameplay mechanics. Players will find themselves immersed for countless hours, relishing the excitement of battle and the gratification of strategic triumph.
CRAFTING OF FORMIDABLE TOWERS
The game features a distinctive tower crafting system, which offers a fresh and stimulating challenge with each playthrough, ensuring that aficionados of strategy and tactics will find lasting appeal. Players collect rare resources through gameplay to craft unique towers with special abilities that cater to their playstyle.
ROGUELITE CAMPAIGN
Players have 10 turns to complete the war campaign. They can choose their own path, encountering different obstacles, challenges, and rewards. Failure could be lethal! The tower deck can be tailored to perfectly suit the chosen path, exploiting the terrain and tower synergies.
EXPANDING MAP
Players can use the terrain to their advantage, transforming even the most formidable adversaries into a tactical asset. However, the map is expanding, offering new territories to defend! Higher ground provides range benefits for the defensive structures, while rivers effectively slow the advance of corrupted foes.
Tower Forge: Dark Defense can be wishlisted on Steam. A press kit is also available.
About Cassagi
Cassagi is a professional PC game Art & Dev studio from Slovakia, founded in 2017. The team consists of experienced artists, designers, and developers who have worked for game titles like Scorn, Dead Island 2, Hell Let Loose, and others.
In 2022, the studio started developing their own IP games. Focusing mostly on the main title Tower Forge: Dark Defense.
Contact List:
Martin Ostrolucky – CEO
[email protected]
www.cassagi.com
Martin Ostrolucky
Cassagi
[email protected]
Visit us on social media:
Facebook
Twitter
LinkedIn
YouTube
TikTok
Tower Forge: Dark Defense | Official Announcement Trailer


Originally published at https://www.einpresswire.com/article/649385461/tower-forge-dark-defense-roguelite-rts-tower-defense-pc-game-announced