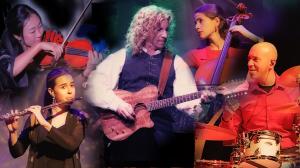 David Arkenstone kicks off his captivating concert tour in Washington on September 22, 2023, with stops in British Columbia, Oregon, and Northern California.
People have told me that it looks like we're having the best time of our lives during the concert. It spills over the stage into the audience."
— David Arkenstone
MONROE, WASHINGTON, UNITED STATES, August 2, 2023/EINPresswire.com/ — From his first Grammy® nomination in 1992 through his latest Grammy® nomination in 2022, David Arkenstone's music has become the soundtrack to our lives with unforgettable NBC Sports themes such as The Kentucky Derby to epic gaming music for World of Warcraft, from Music Inspired by Middle Earth to area music as you stroll through Epcot at Disney World. His September-October tour brings a lively candlelit evening of music blending neo-classical piano, new age, Celtic, progressive rock, orchestral, and world music to the Pacific Northwest. With over 100 million Spotify streams and 60+ CDs, David's music holds something for everyone, taking concertgoers on a wondrous musical journey from first note to last.
Joined on stage by virtuoso musicians Kimberly Zaleski (flute), Laurann Angel (violin), Cecilia Caughman (cello), and Josh Gilgoff (percussion), David has plenty of surprises in store and will debut songs from his newest release. Since his first album in 1987, the acclaimed Valley in the Clouds, this musical visionary continues to create distinctive tracks that inspire the imagination. David enjoys touring and meeting his fans from around the world. "I think the attraction to come to one of my shows is the amount of different kinds of music you will hear and the high caliber of talent you will be presented with. There's something for everybody. People have told me that it looks like we're having the best time of our lives during the concert. It spills over the stage into the audience. After the show to be able to meet the people that have shared the music, I'm so grateful," says David.
A musical storyteller, he is passionate about taking listeners on a journey, creating sonic tapestries that evoke every emotion. "I envision a place where I would like to go, or an adventure I would like to take, and let my imagination run free," says David. "I've gotten countless messages from listeners who love to take these journeys with me. I'm sometimes surprised by how powerfully people in so many age groups respond to my music."
Tickets are on sale now for An Evening with David Arkenstone & Friends! The tour will include the following stops:
9/22 Monroe WA – Wagner Performing Arts Center
9/23 Victoria BC – Phillip T. Young Recital Hall, University of Victoria School of Music
9/24 Victoria BC – First Unitarian Church of Victoria
9/26 Maple Ridge BC – ACT Arts Centre
9/27 Vancouver BC – York Theatre
9/28 Tacoma WA – McMenamins Elks Temple w/Special Guest Pinniped
9/29 Portland OR – Stage 722 w/Special Guest Chasing Ebenezer
9/30 Eugene OR – WOW Hall
10/1 Roseburg OR – The SunnySide Theatre
10/3 Coos Bay OR – The Dolphin Playhouse
10/4 Ashland OR – Jackson Wellsprings
10/5 Weaverville CA – Trinity Alps Performing Arts Center
10/6 Lakeport CA – Soper Reese Community Theatre
10/7 Cloverdale CA – Cloverdale Performing Arts Center
10/8 Sonoma CA – Sebastiani Theater
10/10 Berkeley CA – Freight & Salvage (live concert and live stream)
Tickets are on sale now for the Pacific Northwest Tour of An Evening with David Arkenstone & Friends at davidarkenstone.com or linktr.ee/davidarkenstone
For radio interviews, print interviews, in-studio radio/TV performances, and media passes to concerts, please contact Cynthia Gage. We'd like to invite you as our guest to experience a concert on the Pacific Northwest Tour 2023. Please include your interest in an email to [email protected]. For bookings, group ticket rates, media kit, and other business requests, please contact Cynthia Gage.
Cynthia Gage
Booking Agent/Tour Management for David Arkenstone
[email protected]
Visit us on social media:
Facebook
Twitter
Instagram
Other
Behind the Scenes…Fun!


Originally published at https://www.einpresswire.com/article/647641189/david-arkenstone-5-time-grammy-nominee-announces-return-to-the-pacific-northwest-on-16-concert-tour