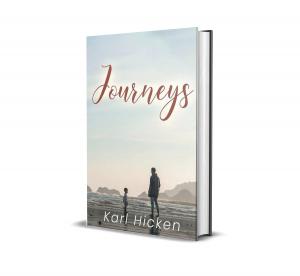 Author Karl Hicken Rekindles Relatable Memories That Last a Lifetime
RICHMOND, CALIFORNIA, USA, October 16, 2023 /EINPresswire.com/ — Poems evoke emotion. But only a few poems stir emotions and bring your imagination to a familiar and unforgettable journey – all at the same time. Finally, a book showcases both, while bringing words to life, memories to the mind, and connections to the heart.
Author Karl Hicken has exposed a combination of new, old, yet timeless poems in a new book that will surely take you to memories and emotions like never before – rekindling your love for poetry and reimagining the play of words.
In the new poetry book "Journeys," Hicken brings his readers to hauntingly evocative poetry masterpieces where each chapter rekindles relatable stories and memories that pull the heartstrings. Each Chapter starts with the word "Journey" followed by a number. By so doing, Hicken takes the readers along a paint-by-number tour through life, capturing bittersweet moments of experience in vivid snapshots of memory. The words he used have profound meanings that bring joy, laughter, pain, and love through a string of phrases that elicit various emotions, memories, and lessons.
"Each chapter is an eloquent representation of a boy's journey to manhood," Hicken says. "Many of these lyrical, well-crafted poems evoke mystical years of childhood that are tainted by the trembling fears of nightmare: in the schoolyard or locker room and in the relative safety of home, something beyond boyish antics and childhood mischief malevolently lurks," he continues. He says that there are gentler sentiments that are recalled as he remembers his grandparents and pays loving tribute to the resilient strengths of his parents – making the book truly relatable to everyone of all ages.
Hicken has also written two books namely, "Sojourns" and "Love Songs" published in 2023 and 2017, respectively. Karl Hicken was raised in Salt Lake City through high school and into college years. He has been married for twenty-five years and has four wonderful children. With few exceptions, each of the United States has contributed to the maturing of the man and the poet, both the people and the events that shape our world. Currently, Heber City, Utah is where Karl and his wife, Shirley reside, with their youngest daughter.
Don't miss the chance to grab a copy of "Journeys" and all the other two books by Karl Hicken through Amazon and other leading digital bookstores worldwide.
ABOUT BOOKS DISCOVERY:
Books Discovery Inc. is a publishing and marketing agency that prides itself on its diverse set of talented, artistic, and driven partners, anchored on the goal of discovering the next big thing in the literary industry! Books Discovery provides collaborative and tailored-fit publicity strategies that boost your masterpieces to a whole new level. Conveniently located in the heart of San Francisco Bay area, we are dedicated to helping self-published authors ignite their careers in the industry by providing only the right tools for the trade to succeed!
Judy del Rosario
Books Discovery Inc.
+1 (510) 573-8151
email us here
Visit us on social media:
Facebook
Originally published at https://www.einpresswire.com/article/662234059/emotional-ride-in-journeys-bring-life-through-words