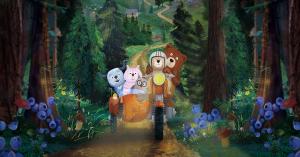 MISSING: The Greatest Teddy Bear Story Ever Told — A Whimsical Journey into the World of Mother Nature, Healing, and Mindfulness.
Tomas Kohoutek, author of Living With Teddy, in his Brooklyn apartment.
Introducing MISSING — A Whimsical Journey into the World of Mother Nature, Healing, and Mindfulness.
Helping, sharing, and caring for each other is, in my opinion, the key to happiness. So, let's team up to help our children grow, heal, and learn from everything around us, especially Mother Nature."
— Tomas Kohoutek
NEW YORK, USA, October 5, 2023 /EINPresswire.com/ — Today marks an exciting moment in the world of children's literature as Tomas Kohoutek, an award-winning creative director, illustrator, and a debut author, proudly unveils his children's book series, Living With Teddy, inspired by the magical world of Mother Nature and some of children's closest allies — their own teddy bears.
The first book in the series, MISSING, is a fun illustrated chapter book geared toward readers 8 and above, that promises to do much more than captivate young hearts and spark their imaginations. This innovative children's story, which doubles as a personal-development book, was carefully designed to help adults, and their children, start a healthy family conversation about stress, worries, and fear, while teaching kids about nature, healing, and mindfulness — some of the most important ingredients often missing from our lives today.
The heroes of the story, Tomas and his childhood friend, Teddy, embark on an adventure filled with wonder, endless possibilities, and powerful life lessons. This dynamic duo takes readers around the world and into the enchanted Black Forest, home to gigantic blueberries and Wild Teddy Bears — the true ancestors of our domesticated teddies, and probably the rarest, wisest, and funniest creatures still roaming the face of the Earth. Together, they meet Mother Nature, the ultimate mentor and healer, who's eager to help everyone become stronger and healthier again. Finally, they travel to New Teddylandia, a magical place children everywhere can't afford to miss.
Tomas Kohoutek, the author of this heartwarming tale, has expressed his excitement about sharing this story with the world:
"I firmly believe there is nothing more important than helping our children thrive, especially now when all the mental, behavioral, and developmental disorders are everywhere around us. But how can we, grownups, assist our children, who are just on the brink of developing their defenses, in coping with this new world full of uncertainty, negative news, confusing culture, and, most importantly, all the technology that's constantly competing for their attention? Today, with the rise of AI, metaverses, gaming, and social media, technology has officially become an unavoidable part of our evolution, and children love it. It's helping them learn, play, and communicate faster than ever before. Plus, STEM fundamentals, like problem solving and coding, will undoubtedly help them survive in the near future. But are our children, who are constantly immersed in their tech, properly adapting to it? If not, then who's teaching them how to slow down, heal, and balance their busy digital lives? My children's book, MISSING, based on years of research and experience, is here to help.
While there are plenty of brilliant teachers and gurus out there helping grownups with some of their physical and mental challenges, I could not find many mentors that our kids could learn from or follow on their own terms. And because, as a child, I had to face many difficult situations, I decided to do something about it. For the sake of our future generations, I decided to travel the world in search of the best childhood counselors who could somehow come to the rescue. And I'm very excited to announce that I found them! After personally experiencing the magical power of Mother Nature and Teddy Bears — something that helped me overcome many challenges in my childhood — I decided to dedicate the rest of my life to learning everything there is to know about them and sharing their message of love, kindness, and healing with anyone who needs it. I hope that children in your life will have a chance to discover this magic too, because it can bring more balance into their busy digital lives and help them become stronger, kinder, and healthier human beings. But you don't have to be a child or be struggling in life to enjoy my story. In fact, it doesn't matter who you are, how old you are, or where you come from. If you'd like to know how to awaken the healer within and help yourself, your family — or perhaps even the world — thrive again, then this is the perfect book for you."
Key Highlights:
– Adventure of a lifetime: The story takes readers on a fun journey around the world and, along the way, plants a seed in their minds about everything that truly matters in life. It provides them with a powerful foundation and the tools they need, not just to survive in this modern world but to thrive in it.
– Immerses children in a world of imagination: MISSING encourages children to unleash their creativity and embark on imaginative adventures of their own.
– Fosters life lessons: Children learn valuable lessons about life, friendship, bravery, and the beauty of seeing the world with an open heart.
– Beautifully illustrated: The book features Tomas' original illustrations, which bring the story to life
– Furthermore, in the book's final chapter, dedicated to adults, Tomas shares step-by-step suggestions for how parents can become the healers in their family.
To learn more about the series, the author, and his mission to bring more children closer to Mother Nature, visit the book's official website.
About the Author:

Tomas Kohoutek is an award-winning creative director, storytelling dad, and peacemaker, who enjoys bringing children, grownups, and nature closer together in fun and creative ways. Tomas' innovative children's story, which doubles as a personal-development book, is designed to help children and adults everywhere start a healthy family conversation about their stress, worries, and fears, while teaching them about nature, healing, and mindfulness — some of the most important ingredients often missing from our lives today.
Living With Teddy

MISSING: The Greatest Teddy Bear Story Ever Told

Written and Illustrated by Tomas Kohoutek
Tomas Kohoutek
Teddylandia
[email protected]
Visit us on social media:
Facebook
Twitter
Instagram
YouTube
TikTok


Originally published at https://www.einpresswire.com/article/657546683/father-discovers-a-new-breed-of-childhood-counselor-advisor-and-mentor-the-wild-teddy-bear