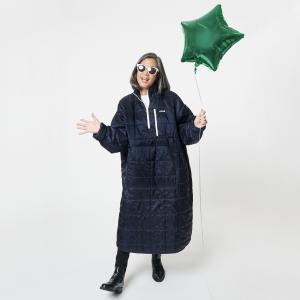 Made for travel lovers, hockey moms, soccer and football fans, dog walkers, al fresco dining and more!
GREENWICH, CONNECTICUT, UNITED STATES, October 10, 2023 /EINPresswire.com/ — CIFARI is proud to unveil its revolutionary packable jacket, designed to provide warmth and comfort without the bulkiness of traditional outerwear. This lightweight jacket is a game-changer and a versatile layering option whatever the occasion may be.
CIFARI is the ultimate go-to extra layer of warmth that can be easily carried anywhere. It can be used by hockey, lacrosse, and soccer moms, football fans, dog walkers, and anyone who enjoys al fresco dining or works in air-conditioned offices.
The key to CIFARI's uniqueness lies in its effortless ability to fit seamlessly over any outfit, providing a much-needed shield against chilliness without compromising on mobility. Designed in a "one-size-fits-most" style, this jacket boasts a soft featherweight fiberfill core, offering exceptional warmth. Its ample coverage even while seated provides added comfort, making it the ideal companion for cold benches at sports events, outdoor dining, or cozy evenings by the fire pit.
Crafted from recycled materials, CIFARI not only prioritizes warmth but also emphasizes sustainability. This wind-resistant jacket strikes as a great balance between heat retention and breathability, ensuring comfort without discomfort. Additionally, CIFARI's intelligent design allows it to be easily packed into its own sleeve, enabling effortless portability.
CIFARI has received outstanding feedback, with customers rating it five stars for its ability to provide a comfortable barrier against the cold. Founder Susan Buchanan Millard shares the inspiration behind CIFARI: "After numerous instances of feeling unprepared for sudden drops in temperature, I envisioned a stylish and easy-to-wear pullover jacket that could keep me comfortably warm outdoors without sacrificing style. Our mission at CIFARI is simple: Go Forth. Stay Warm!"
This packable jacket from CIFARI also makes for a thoughtful gift option, complete with qualities that make it an easy choice for buyers:
* One-size-fits-most pullover style, ensuring a hassle-free purchase experience

* Lightweight construction weighing less than a pound

* High-quality craftsmanship using recycled materials

* Smart and stylish design in a timeless navy color

* Particularly suitable for individuals who tend to feel cold even in moderately cool weather
CIFARI is now available for purchase, presenting a breakthrough solution for those searching for a lightweight yet highly effective jacket. Embrace all seasons with comfort and ease. To learn more about CIFARI or to make a purchase, please visit www.cifariwear.com
About CIFARI
CIFARI is a leading provider of innovative, packable jackets, committed to keeping individuals warm without compromising convenience or style. Founded by Susan Buchanan Millard, CIFARI aims to offer a wearable and lightweight solution for those seeking adaptable warmth in any situation.
Instagram: @cifariwear

Website: www.cifariwear.com
Susan Malinowski
CIFARI
+1 203-918-4729
[email protected]
Originally published at https://www.einpresswire.com/article/659203619/introducing-cifari-light-weight-packable-jacket-for-all-seasons