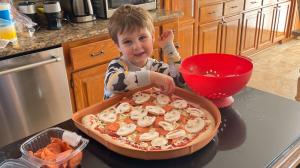 Create The Perfect Pizza & Much More
SHELBY TOWNSHIP, MI, UNITED STATES, May 19, 2023/EINPresswire.com/ — Pan Duo is one of the latest pizza pans launched on the market. This professional quality pan gives pizza makers and pizza lovers both the perfect pizza experience.
Launched by three friends, the Pan Duo pizza pan is convenient, innovative, and reliable and comes with various advanced features to give users the ultimate baking experience.
One of the key issues of pizza baking is the pizza sticking to the pan which causes the crust to break apart and affects the aesthetics of the pizza. While there are many manufacturers creating pans to remedy the issue of sticking, the Pan Duo invention has entered the market as the ideal solution. It is the perfect baking companion for ultimate crispiness and the perfect crust.
Pan Duo has a patented design featuring built-in grooves that creates the perfect pizza slice, ending the continuous argument that one slice is bigger than the other. The cutting grooves go all the way up to the rim of the pan, allowing the user to see where to cut at. The built in cutting grooves in the pan also eliminate the use of a cutting board and serving tray. Making Pan duo the all in one pan that can be used for cooking, cutting, and even serving on.
The pan was created to provide users with the utmost convenience and to cut costs. The pizza pan has an ultra-non-stick titanium ceramic copper coating, there's no need to use butter or oil to grease the pan and this ultimately helps people to save money. This pizza pan is multipurpose where people can use one pan to cook, cut, and even serve food. Additionally, the large cooking surface of the pan is perfect for a standard baking pan for other favorite dishes, such as chicken and even desserts like brownies.
Pan Duo is designed to last a long time and is completely safe. It is free from harmful substances such as BPA, PFOS, PFOA & PTFE. It also has the perfect level of hardness where it has 7H-8H Mohs scale hardness. It can be easily cleaned and is highly durable where it is guaranteed to be scratch and corrosion-resistant, freezer and dishwasher, and oven safe. This pizza pan is also highly safe for the environment as it has an eco-friendly coating and recycled aluminum.
PAN DUO PIZZA

PO Box: 183884

Utica, MI 48318

PanDuoPizza.com

John Miller
Pan Duo on KICKSTARTER

Pan Duo is running a promotion on Kickstarter and anyone who is interested in purchasing this fun and great pan will get it at a discounted price.

Kickstarter

58 Kent Street

Brooklyn, New York
John Miller
Pan Duo Pizza
+1 586-307-4153
email us here
Visit us on social media:
Facebook
Twitter
Instagram
YouTube
Other
Create The Perfect Pizza & Much More


Originally published at https://www.einpresswire.com/article/634729904/pan-duo-pizza-pan-provides-the-ideal-solution-for-the-perfect-pizza-making-experience