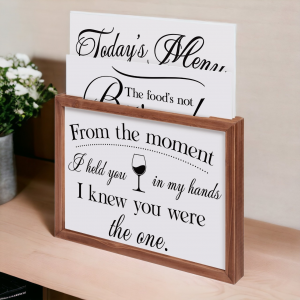 Vertoform Technology Interchangeable Design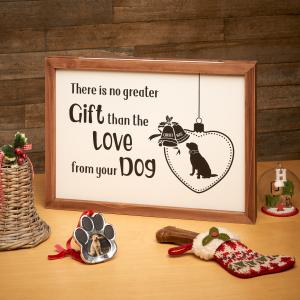 Seasonal Dog Life Interchangeable Wall Sign Collection
Transform your space quickly and effortlessly with this innovative and versatile home décor solution!
Welcome to the new era of wall decor! Embrace the power to customize, reimagine, and inspire your walls with endless possibilities!"
— Ian Nethercot, Founder and CEO, Switchup Signs
KENTUCKY, UNITED STATES, June 8, 2023/EINPresswire.com/ — Switchup Signs is proud to announce the launch of its latest product – a unique interchangeable wall décor system that offers endless possibilities to style any room in the home.
Switchup Signs is the only wall décor brand in the world to use Vertoform technology. This technology is designed to allow homeowners to easily change their wall décor without the need for multiple nail holes or damaging walls. With this new product, users can simply swap out the interchangeable signs, that are all held neatly inside the frame, to create a fresh new look in their home. The Vertoform frame neatly stores six designs within its own integrated channels and has been cut with precision to enable the user to easily slide out a sign to switch up what is on display. The product is handmade with premium wood and can be wall mounted or standing.
Gone are the days of settling for a single wall décor piece that remains static and tiresome. With Switchup Signs, consumers can now explore an extensive range of designs and tailor their wall décor to suit any mood, season or occasion. This ground-breaking product seamlessly merges style and simplicity, allowing you to refresh your space in an instant!
The product is highly versatile which means a user can interchange multiple collections with each other within the home.
Switchup Signs is the brainchild of a husband and wife team that is passionate about creating beautiful home décor solutions who understand the desire for change and self-expression.
"Our new interchangeable wall décor product is a game-changer in the home décor industry", said Ian Nethercot, Switchup Signs Founder & CEO. "We understand that homeowners want to change the look of their home regularly, but they don't want to commit to a permanent design. Our new product provides an affordable, hassle-free solution that allows customers to have their home, their style, their way! Our mission is to empower people to curate spaces that reflect their unique personalities, moods, and stories." With Switchup Signs, your walls become an ever-evolving canvas, enabling you to infuse fresh energy into your living spaces at a moment's notice.
"We believe that our homes should be a reflection of who we are and how we feel", said Nethercot. "With our new product, we want to give people the freedom to transform their living spaces effortlessly and showcase their personal style in a fun and innovative way."
Switchup Signs is now available for purchase on www.switchupsigns.com or through its authorized retailers.
Ian Nethercot
Switchup Signs
+1 502-450-8885
[email protected]
Visit us on social media:
Facebook
Instagram
YouTube
See how it works!


Originally published at https://www.einpresswire.com/article/637921069/revolutionary-interchangeable-wall-d-cor-product-just-launched