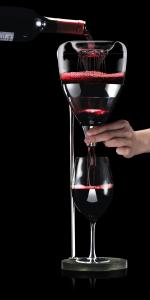 Vortex Somm Tritan Serving Chilled White Wine
Vortex Aerating Wine Dispenser Rain Filter Lift and Serve
Vortex Somm Tritan® and Vortex Tower Tritan® Aerating Wine Dispensers for Elegant Indoor & Elevated Patio Safe Outdoor Entertaining
The Vortex aerating wine dispenser by Vinotive is an elegant way to serve wine and all kinds of other beverages, an eye-catching tabletop conversation piece, sure to be a hit while entertaining."
— Vinotive
SCOTTSDALE, ARIZONA, USA, July 31, 2023/EINPresswire.com/ — Vinotive announces the latest evolution of popular Vortex line of Aerating Wine / Beverage Dispensers. The introduction of the newly designed Tritan® Edition of the Vortex Somm and Vortex Tower whole bottle aerating wine dispensers.
The Vortex aerating wine dispenser is filled by allowing wine to pass through the "rain filter," aerating the wine and releasing the bouquet on its way into the Tritan® decanting vessel beneath. To dispense the wine, slide up the specially designed stainless-steel gravity fed valve and a glass of wine is served. Guests can simply help themselves.
The Vortex aerating wine dispenser is an elegant way to serve wine and all kinds of other beverages, an eye-catching tabletop conversation piece, sure to be a hit while entertaining at home. The extra-strong, shatterproof Tritan® decanter and rain filter set resists breaking, chipping and scratching. The patio safe design is ideal for outdoor entertaining and everyday use.
The newly added extra-large 304 stainless steel spherical chilling ball allows wines and other beverages to be served at the optimal temperature, without compromising the taste. Hygienic and reusable, rinse and re-freeze as needed.
Elegant entertaining that's patio safe. Both Decanter and Rain Filter set are made of durable, beautiful, shatterproof Tritan® for reliable, long-lasting strength, stainless steel, TPR, PP and silicone. BPA Free.
• Aerate and serve a whole bottle of wine.

• Tritan® decanter with rain filtration on top that aerates wine as you pour it.

• Gravity-fed stainless steel valve at bottom of decanter vessel allows for easy serving – simply lift the valve upwards to effortlessly fill a glass.

• Vortex Somm stainless-steel tripod frame provides a modern stylish foundation and elegant display.

• Vortex Tower single stainless-steel support cradles the decanter set above a natural slate base.

• Holds a standard 750ML bottle of wine +, 1-liter total capacity

• Chill and serve white wines at the perfect temperature with the reusable extra large chilling ball.

• Create your own fabulous cocktails, serve delicious mimosas, infused waters and much more.

• A versatile beverage entertainment center that all will enjoy.

• Thoughtful construction – Made of durable crystal-clear Tritan®, stainless steel, TPR, PP and silicone. BPA Free
Both the Vortex Somm and Vortex Tower Aerating Wine Dispensers by Vinotive make the ideal gift for anyone who enjoys wine and appreciates a professional quality and elegant home entertaining accessory.
For more information on Vinotive or the Vortex Somm Aerating Wine Dispenser & Vortex Tower Aerating Wine Dispenser, visit https://store.vinotive.com or email mailto:[email protected].
About Vinotive:

Vinotive designs and creates innovative wine accessories where form, function and style are of high priority. Vinotive products can be found in daily professional use serving wine at thousands of wineries, wine tasting rooms, restaurants, gourmet stores and specialty gift stores across North America.
Stephen Thomson
Vinotive LLC
email us here
Visit us on social media:
Facebook
Instagram
YouTube
Vortex Somm Aerating Wine Dispenser


Originally published at https://www.einpresswire.com/article/646787201/the-art-of-serving-wine-by-vinotive