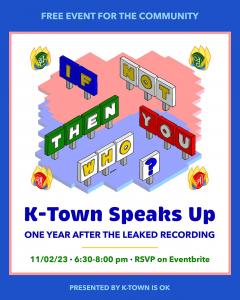 This event is the culmination of a year-long effort to document Oaxacan-American, Korean-American, and other voices from Koreatown.
LOS ANGELES, CA, UNITED STATES, October 20, 2023 /EINPresswire.com/ — On Thursday, November 2, 2023, K-Town Is Oaxacan Korean, also known as K-Town Is OK, is bringing together long-time and former residents of Koreatown into conversation. The panel, free and open to the public, is being held just over a year after the public release of a private discussion between L.A. City Council Members Nury Martinez, Gil Cedillo and Kevin De Leon and Federation of Labor leader Ron Herrera, in which they dismissed Korean-American residents of the area and ridiculed Oaxacan or Mexican-American members of the community as "short, dark people" and "feos (ugly)."
The online panel features a line-up of guest speakers, including artist, photographer and designer Kwasi Boyd-Bouldin; founder and executive director of Asian Americans for Housing and Environmental Justice Susan Park; and storyteller and Indigenous communities advocate Monica Garcia, with more speakers to be announced in the coming days.
This event is the culmination of a year-long effort by local artist Helen H. Kim and community journalist Jimmy 'J.T.' Recinos to document Oaxacan-American, Korean-American, and other voices from Koreatown through their website and podcast. The event title is inspired by a 2012 Kore Asian Media article by journalist K.W. Lee, in which he beckons the youth of the Korean-American community to raise their voices against the ongoing racism, injustice, and corruption that resulted in the 1992 Los Angeles riots or uprising, also known as Saigu. In the article, Lee implores "If you don't speak up, who else will?" Original artwork for the event, based on the same article, has been lent to K-Town Is OK by artist Mikki Paek.
"If Not You Then Who?" is set to demonstrate that the same people who were disparaged on the leaked recordings can be deeply engaged on issues in Koreatown, including housing unaffordability, inadequate representation at L.A. City Hall, labor and wage issues, and other areas lacking equity. The event also looks to connect a wider audience to K-Town Is OK as a resource for the people who make up Koreatown, including various immigrant communities and African-American communities with decades of history in the area.
K-Town Is OK is a project by Quien Es Tu Vecindario, also known as Who Is Your Neighborhood, a nonprofit organization since 2020 uplifting communities through creative and accessible arts and education programs. K-Town Is OK and this panel are funded in part by grants to Quien Es Tu Vecindario from Core Contributors Group (CCG) and the L.A. County Department of Arts and Culture. The Koreatown Youth and Community Center (KYCC) is also helping spread the word for "If Not You Then Who." To make a tax-deductible donation in the interest of producing this community dialogue, please do so through Quien Es Tu Vecindario's donation button.
Register for "If Not You Then Who?" through Eventbrite. More information about our panelists is also forthcoming through Instagram (@ktownisok) and the K-Town Is OK Newsletter. This Press Release will also be updated with further details.
Richard Martinez
Quien Es Tu Vecindario
[email protected]
Visit us on social media:
Facebook
Instagram
YouTube
TikTok


Originally published at https://www.einpresswire.com/article/662991872/if-not-you-then-who-k-town-speaks-up-one-year-after-the-leaked-recording-online-panel-hosted-by-k-town-is-ok