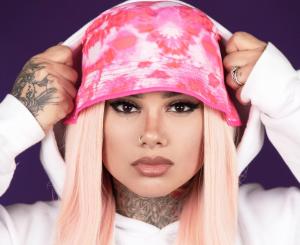 Todo Y Nada Tour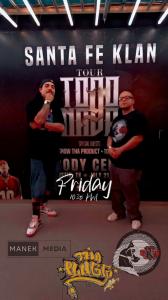 Loke G and Manek backstage at the Moody Center Todo Y Nada Tour 2023
Snow Tha Product and Santa Fe Klan shoot video To Unreleased Song in Houston 5th ward Silo. Low G and Loke G pull up to Cameo and show support.
It is through art that we will prevail and we will endure."
— Rita Moreno
HOUSTON, TEXAS, UNITED STATES, July 29, 2023/EINPresswire.com/ — In the hot Texas summer, the hidden gem in the streets of Houston's Fifth Ward was transformed on July 20th, as California rapper and Latin Grammy Nominee, Snow Tha Product, turned the area into a tequila drinking, wepa dancing, party vibe video shoot location. The outspoken rapper was in town to film the music video for her highly-anticipated single featuring Mexico's mainstream artist, Santa Fe Klan.
It was not only Snow's star power that drew a massive crowd to the Fifth Ward; Houston's own local talent, Low-G, Bo-Bundy, and Lil Mexico Hov from the Wolfpack also showed up for cameo appearances, adding to an outpouring of local support. The scene was colorful with a mix of lowriders, cholos, beautiful women and all sorts of manifestations of the culture.
Amongst the them was AKM Publishing's General Manager, Loke G, who showed up to witness and capture the essence of the energy. Hailing from the barrios himself, Loke G felt right at home, comfortable enough to jump in the scene here and there for a Cameo as well. This event allowed the people to feel the presence of two successful touring artists. Displaying humility, Snow, provided the guests with free drinks and snacks as the video shoot continued into the evening. The video shoot represented not just another pop-culture event, but a moment of unity, an intersection of cultures, and a chance for the community to rally behind their artists.
However, the party did not end there. The very next day, Todo Y Nada Tour continued in Austin Moody Center. Loke G and Manek Media travelled to Austin upon receiving all access passes to capture the live event. About 10,000 people gathered to witness greatness En Vivo. The live performance at the Moody Center was a spectacle to behold, with state-of-the-art laser shows, pyrotechnics, and stunning visual effects complementing Snow's swift raps and powerful stage presence. Backed by an ensemble of skilled dancers, the show was an audiovisual spectacle and finale that left the audience captivated and subscribing for life.
The Texas appearances were part of Snow Tha Product, Tornillo and Santa Fe Klan's Todo y Nada tour, a multi-city musical crusade that is still ongoing. As the tour progresses, it's clear that her talent is never-ending. The love, respect, and recognition she has been receiving are real, and every show is a testament to her star-power and the connection she has with her fans.
The rapper, who is a proud representative of the less privileged, has always used her platform to amplify voices from the bottom. This ethos was evident in her Houston video shoot, where she merged music, culture, and community seamlessly. As a representative of the downtrodden, Loke G calls her one of the Realest.
It's clear that Snow Tha Product is a force to be reckoned with, an artist who seamlessly blends culture, music, and herself in every performance. The value of a human that exists, alive now in this day and age that has the power to create a literal party at a short notice and be able to capture the art in it, is irreplaceable and should be supported at all costs.
Whether you're a long-time fan or new to her music, Snow Tha Product's concerts are a celebration of music, culture, and inclusivity. The Todo Y Nada Tour is an unforgettable musical experience that's as rich and dynamic as the artist herself.
Daniel Olavarrieta
KBT
+1 210-712-9044
[email protected]
Visit us on social media:
Facebook
Twitter
Instagram
YouTube
Bajala Snow Tha Product


Originally published at https://www.einpresswire.com/article/646809881/latin-grammy-nominee-snow-tha-product-captivates-houston-and-austin-with-a-thrilling-video-shoot-and-live-performance