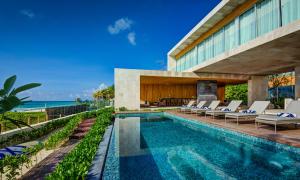 NEW YORK, NEW YORK, USA, September 5, 2023/EINPresswire.com/ — This spectacular oceanfront estate, built by Sordo Madaleno Architects, offers solitude, sweeping ocean views, and an organic aesthetic reminiscent of a luxury spa. Currently listed for $8.9 million, Villa Kin Ich is scheduled to auction next month with starting bids expected between: $2 million-$5.25 million and no reserved via Concierge Auctions in cooperation with Sally Sudol of The Agency. Bidding will open 19 September and culminate on 29 September. This rare piece of real estate will be available via Concierge Auctions' online marketplace, ConciergeAuctions.com, allowing buyers to bid digitally from anywhere in the world.
Villa Kin Ich blurs the line between nature and the built environment. The estate is set back on the property, giving the feeling of a tranquil, private island. Lush, tropical landscaping surrounds for gazing out at unobstructed views of the Caribbean. Thoughtfully conceived interior garden spaces further evoke the natural world. As exceptional as the villa is for relaxation, the entertaining is effortless. The main floor outdoor terrace offers dining, swimming, and lounging areas. A rooftop terrace is the perfect spot for grilling and sunset cocktails. The serene color palette inside lets the luxurious materials and custom details sing while walls of glass remind that a private beach awaits.
Villa Kin Ich difumina la línea que separa la naturaleza del entorno construido. Esta espectacular finca frente al mar, construida por Sordo Madaleno Architects, ofrece soledad, amplias vistas al océano y una estética orgánica que recuerda a la de un spa de lujo. Villa Kin Ich está situada en el fondo de la propiedad, dando la sensación de ser una tranquila isla privada. El exuberante paisaje tropical que la rodea permite contemplar vistas despejadas del Caribe. Los espacios ajardinados interiores, cuidadosamente concebidos, evocan aún más el mundo natural. Tan excepcional como la villa es para la relajación, el entretenimiento es sin esfuerzo. La terraza exterior de la planta principal ofrece zonas para comer, nadar y descansar. La terraza de la azotea es el lugar perfecto para hacer una barbacoa y tomar un cóctel al atardecer. La serena paleta de colores del interior deja que los materiales de lujo y los detalles personalizados canten, mientras que las paredes de cristal recuerdan que les espera una playa privada.
Villa Kin Ich is available by appointment, in person or virtually.
As part of Concierge Auctions' Key for Key® giving program in partnership with Giveback Homes, the closing will result in the funding towards a new home built for a family in need.
Agents will be compensated according to the terms and conditions of the Listing Agreement. See Auction Terms and Conditions for full details. For more information, including property details, diligence documents, and more, visit ConciergeAuctions.com or call +1.212.202.2940.
About Concierge Auctions
Concierge Auctions is the world's largest luxury real estate auction marketplace, with a state-of-the-art digital marketing, property preview, and bidding platform. The firm matches sellers of one-of-a-kind homes with some of the most capable property connoisseurs on the planet. Sellers gain unmatched reach, speed, and certainty. Buyers receive curated opportunities. Agents earn their commission in 30 days. Acquired by Sotheby's, the world's premier destination for fine art and luxury goods, and Anywhere Real Estate, Inc (NYSE: HOUS), the largest full-service residential real estate services company in the United States, Concierge Auctions continues to operate independently, partnering with real estate agents affiliated with many of the industry's leading brokerages to host luxury auctions for clients. For Sotheby's International Realty listings and companies, Concierge Auctions provides Sotheby's brand exclusivity as Sotheby's Concierge Auctions. Since inception in 2008, the firm has generated billions of dollars in sales, broken world records for the highest-priced homes ever sold at auction and conducted auctions in 46 U.S. states and 36 countries. The firm owns one of the most comprehensive and intelligent databases of high-net-worth real estate buyers and sellers in the industry, and it has committed to build more than 300 homes through its Key For Key® giving program in partnership with Giveback Homes, which funds new homes for families in need from every property the company sells. For more information, visit ConciergeAuctions.com.
Emily Roberts
Concierge Auctions
+1 212-202-2940
email us here
Originally published at https://www.einpresswire.com/article/653912557/villa-kin-ich-private-tranquil-resort-style-estate-in-playa-del-carmen-to-auction-via-concierge-auctions