Thor Challgren at TEDx Anchorage in front of audience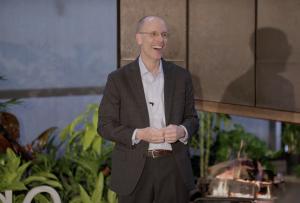 Thor Challgren smiling during talk at TEDx Anchorage
Using neuroscience and real-life experiences in his TEDx Anchorage talk, Thor Challgren shares how embracing chaos on vacation leads to unforgettable memories.
When you travel, 90% of the time, things go the way you expect. The other 10%? That's where you're tested. It's an opportunity to discover what you're made of. A chance to feel alive."
— Thor Challgren
LOS ANGELES, CALIFORNIA, UNITED STATES, May 2, 2023/EINPresswire.com/ — Thor Challgren's TEDx Anchorage talk, "Why You Should Embrace Chaos on Vacation," is now available for streaming on YouTube. Delivered in February 2023, this engaging and humorous talk is a must-watch for travelers. Find out how the unexpected can lead to the most memorable experiences by watching the video, now on YouTube.
In his talk, Thor shares personal stories and insightful lessons on how embracing the chaos on vacation can lead to the most unforgettable memories. Using neuroscience and real-life experiences, Thor demonstrates the importance of having an open mind and being receptive to unplanned events, even when they seem inconvenient or disastrous at first.
Thor encourages his audience to go "D.E.E.P" – Destination: Explore and Embrace: People – to make their trips more memorable. By exploring new places, meeting new people, and stepping out of one's comfort zone, travelers can create their own unique and unforgettable adventures.
With a background in travel and drawing on his experience as a newspaper travel columnist, Thor Challgren is an ideal guest speaker for travel events, conferences, bloggers, and podcasters looking to provide their audiences with inspiring content. His TEDx Anchorage talk is an excellent example of the captivating stories and valuable advice he can share with audiences. Thor is also the author of the Amazon bestselling book, "Best Vacation Ever: The Ultimate Travel Guide to Renew, Recharge and Reconnect."
For more information about the TEDx Anchorage conference, visit their official website at https://www.tedxanchorage.com
Don't miss out on Thor Challgren's engaging talk, now available on YouTube. Start embracing the unexpected on your vacations and make lasting memories that will be cherished for a lifetime.
Thor Challgren
Speaker and Author
+1 805-500-3025
[email protected]
Visit us on social media:
Twitter
LinkedIn
Instagram
YouTube
Why you should embrace chaos on vacation | Thor Challgren | TEDxAnchorage


Originally published at https://www.einpresswire.com/article/631378166/embrace-chaos-on-vacation-thor-challgren-s-talk-at-tedx-anchorage-now-streaming