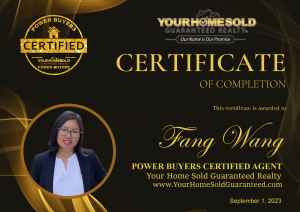 ROSEMEAD, CA, UNITED STATES, September 1, 2023/EINPresswire.com/ — Fang Wang proudly announces her successful completion of the prestigious YHSGR POWER BUYER Agent Certification program, marking a significant achievement in her real estate career. With this certification, Fang Wang is well-prepared to enhance the real estate experience for her clients in today's competitive market.
The YHSGR POWER BUYER Agent Certification program equips real estate professionals with advanced knowledge and tools, enabling them to offer innovative solutions tailored to the dynamic market.
Fang Wang's certification as a YHSGR POWER BUYER agent brings several advantages to her clients, particularly the ability to qualify VIP buyers as cash buyers. This empowers clients to submit compelling cash offers, eliminating loan contingencies and sell contingencies from their offers.
The POWER BUYER program comprises three distinctive types of programs:
1. Cash Buy Flex: This program guides clients to secure conditional approval through a trusted lending partner. POWER BUYER then sets aside the cash amount the client is qualified for as a backup for their loan offer when an addendum is submitted.
2. Cash Buy Reserve: After obtaining conditional underwritten approval, POWER BUYER purchases the house, allowing the buyer to move in immediately after closing. The buyer pays back the amount after their loan approval, effectively offering a true cash offer.
3. Buy Before Sell Program: Designed for buyers who need to sell their current home to secure loan approval, this program provides a tailored solution that streamlines the buying process.
"At Your Home Sold Guaranteed Realty, we're excited to see agents like Fang Wang embrace the YHSGR POWER BUYER program. This innovative initiative offers clients a unique opportunity to qualify as cash buyers, giving them a considerable advantage in a competitive market. It's all about creating smoother transactions, eliminating contingencies, and enhancing the overall real estate experience. Fang Wang's certification underscores our commitment to delivering the best solutions to our clients, and we're confident that her expertise in the POWER BUYER program will greatly benefit buyers and sellers alike," said Lori Hintz, manager at Your Home Sold Guaranteed Realty.
Fang Wang's certification reflects her unwavering commitment to delivering exceptional service and ensuring her clients have a competitive edge in the real estate market. With the POWER BUYER program, Fang Wang is ready to guide her clients through successful real estate transactions with a focus on efficiency and results.
For clients seeking expert guidance and innovative solutions in their real estate transactions, Fang Wang, as a YHSGR POWER BUYER Certified Agent, represents a trusted choice.
To learn more about Fang Wang and the benefits of the POWER BUYER program, please visit www.YourHomeSoldGuaranteed.com
About Your Home Sold Guaranteed Realty:
Your Home Sold Guaranteed Realty is a pioneering real estate agency dedicated to redefining the way buyers and sellers experience the real estate market. With an unwavering commitment to innovation, excellence, and customer satisfaction, our agency has earned a reputation as an industry leader. We pride ourselves on providing cutting-edge solutions to meet the evolving needs of the real estate landscape. With a team of dedicated professionals, we go above and beyond to ensure our clients' real estate dreams become a reality. Whether you're buying, selling, or seeking expert guidance in the real estate realm, Your Home Sold Guaranteed Realty stands as your trusted partner, ready to deliver exceptional service and results.
RUDY LIRA KUSUMA
YOUR HOME SOLD GUARANTEED REALTY, INC.
+1 626-789-0159
[email protected]
Visit us on social media:
Facebook
Twitter
LinkedIn
Instagram
YouTube
TikTok
Other


Originally published at https://www.einpresswire.com/article/653364229/fang-wang-attains-yhsgr-power-buyer-agent-certification-elevating-real-estate-expertise-and-client-benefits