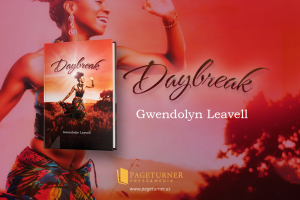 CHULA VISTA, CA, UNITED STATES, September 12, 2023/EINPresswire.com/ —
Readers' Favorite announces the review of the Non-Fiction – Self Help book "Daybreak" by Gwendolyn Leavell, currently available at http://www.amazon.com/gp/product/B0CC4FB1JZ.
Readers' Favorite is one of the largest book review and award contest sites on the Internet. They have earned the respect of renowned publishers like Random House, Simon & Schuster, and Harper Collins, and have received the "Best Websites for Authors" and "Honoring Excellence" awards from the Association of Independent Authors. They are also fully accredited by the BBB (A+ rating), which is a rarity among Book Review and Book Award Contest companies.
"Reviewed By Edith Wairimu for Readers' Favorite
In her inspirational, faith-based work, Daybreak, Gwendolyn Leavell recounts terrifying experiences and discusses how she survived them by applying her faith. In one of the three experiences, Leavell leaves her apartment on a beautiful Saturday morning. Though the streets seem empty and desolate, everything is peaceful and bright. The sound of an explosion suddenly alerts Leavell to possible danger close to her. As she continues to walk more cautiously, she discovers a man is following her. In the experiences, Leavell turns to prayer. Despite the turmoil that surrounds her, through faith, she overcomes her fear and knows what to say or do in frightening circumstances. Her experiences offer hope that is gained through faith and prayer.
I appreciated that Leavell offers a candid exploration of her thoughts and emotions during each of the experiences and shows what to do when facing a dangerous situation. The work is impactful, with critical insights that could help anyone facing an unexpected event. I loved its messages on managing emotions from a spiritual perspective and its practical advice on overcoming anxiety. The stories are also hopeful as they reflect on God's presence and show Him to be an ever-present help during times of trouble. Daybreak by Gwendolyn Leavell is a powerful work that explains how to use faith during scary encounters. It includes uplifting, important topics about prayer as a spiritual weapon and offers encouragement to anyone experiencing anxiety."
You can learn more about Gwendolyn Leavell and "Daybreak" at https://readersfavorite.com/book-review/daybreak where you can read reviews and the author's biography, as well as connect with the author directly or through their website and social media pages.
Readers' Favorite LLC

Media Relations

Louisville, KY 40202
Jen
PageTurner Press and Media
email us here
Visit us on social media:
Facebook
Twitter
Instagram
YouTube
TikTok
Other


Originally published at https://www.einpresswire.com/article/655124788/readers-favorite-announces-the-review-of-the-non-fiction-self-help-book-daybreak-by-gwendolyn-leavell